Namibia sits on the southwestern coast of Africa facing the Atlantic Ocean. Zambia and Angola are the countries bordering on the north. The eastern border is shared with Botswana and South Africa lies to the south. Namibia even has provisions for conservation and protection of natural resources in its constitution, and takes pride in preserving the land, the flora and fauna native to the country. The sand, surf and landscape offers opportunity for a wide range of outdoor sport activities and adventures, but visitors should keep their camera ready.
Dolphin Tours Namibia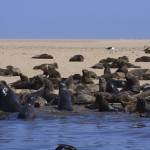 From the marina in Walvis Bay, guests can hire a guided cruise on a comfortable catamaran around the spectacular harbor. Friendly seals and dolphins come right up to the watercraft happy for a fish and ready to play. Pelicans, flamingos and other water birds as well as a variety of marine life can be observed on the ride. Cruises leave in the morning when the most marine life and birds are active. To end the trip, a light lunch is served on board and beverages.
Equitrails Namibia
Because the horses are gentle and the instructor is patient and knowledgeable, taking the horses out over the hills and mountains is wonderful activity for experienced horse riders and for those who do not have any experience. This ride at Elisenheim Guest Farm outside of Windhoek is much more than just following a short trail. It is a horseback ride in the wild with animals and birds everywhere to be discovered.
Living Desert Adventures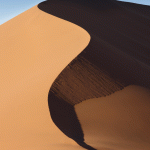 In Swakopmund, a desert expert will take passengers on a tour through the desert to find many animals and small reptiles including chameleons, geckos, and spiders. The four hours fly by as the friendly guide makes frequent stops and enthusiastically discovers a wide variety of wildlife and lets guests get up close to them. The tour guide's tales of the natural, wild desert life are entertaining, fascinating as well as educational.

Namiba Sky Balloon Safaris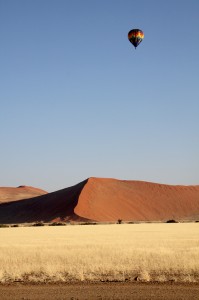 Near Windhoek in a balloon at sunrise, passengers float over the amazing Sossusvlei area watching the changing early morning sky and the varying terrain below with desert, river beds, trees, mountains and sand dunes. The balloon passes over birds, herds of springbok and other animals. In the desert where the balloon lands, a breakfast awaits with lovely foods like croissants, fruit salad and champagne.