Many people don't realize "Murano" refers to a cluster of islands rather than a specific brand of glass. Located barely a mile north of Venice and sharing its Lagoon and warm, humid climate, Murano is a perfect day trip for anyone interested in glass production.
Glass making came to Murano in the late 13th century when Venice sent its glassmakers into exile, seeking to export the fire hazard of constantly burning furnaces. The loss was Venice's, for in Murano these craftsmen developed techniques no one else could match, including the manufacture of milk glass, enameled glass, millefiori and glass laced with gold. Murano soon became the glass capital of the known world and master craftsmen earned the privileges of nobility. Today's Murano is still best known for its glass, and glass is the reason most tourists visit.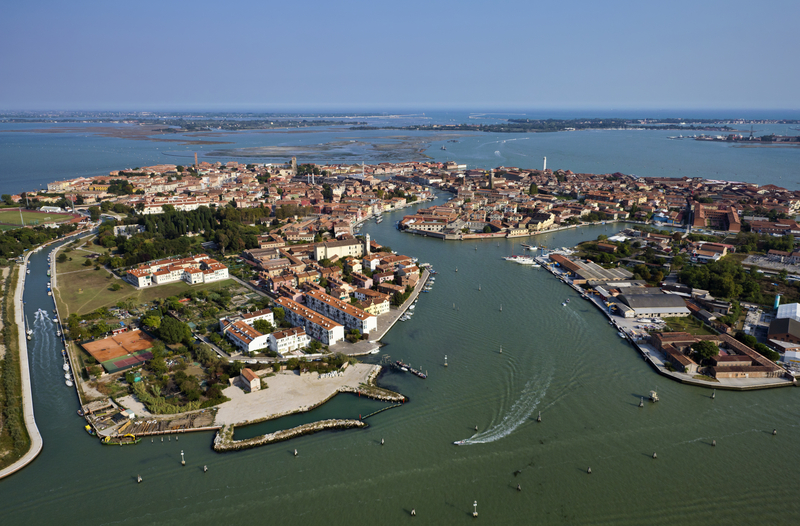 While accommodations are available on Murano, most visitors stay in Venice and arrive by ferry. Wise travelers will resist offers of a free boat ride to Murano, for these are designed to drag tourists into showrooms and keep them there until a sale is made. The public ferry is inexpensive and far preferable. Once landed, the way to sightsee is on foot, for Murano measures barely a mile from end to end.
There are three ways to see and enjoy Murano's glass. Shops line the island, offering everything from fun, inexpensive beads and souvenirs to expensive collectible pieces. Fraudulent glass does work its way in, so look for the authenticating "Vetro Murano Artistico" decal in the shop window.
There are also glass factories that give short tours and demonstrations. Mornings are the time to attend these, for activity slows during lunch and, depending on the mood and the heat of the day, may never quite revive. The most skilled glass masters do not give demonstrations for fear of revealing their secrets, but this won't spoil the fun in the least – seeing even "ordinary" glass blown and molded is magical.
To see the best pieces, head for the museums. In addition to the Museo Vetraio, the Glass Museum, there's the Modern and Contemporary Museum, whose works reflect more recent styles and methods.
Of architectural interest are the Basilica dei Santa Maria e San Donato with it's flourish of Byzantine mosaic and the Campo Santo Stefano's impressive 19th century clock tower.
Murano is a quiet town after sunset, with only one restaurant remaining open, so you can easily be back in Venice in time for dinner and a relaxed evening.