Located in Central Florida's Lake County, Mount Dora, Florida is a picturesque village situated on the hills overlooking Lake Dora. Officially named Mount Dora in 1883 after local resident Dora Ann Drawdy, the town is gently perched 184 feet above sea level. Well known and loved for its hometown ambience and historical details, Mount Dora welcomes guests with southern hospitality and an exceptional variety of activities, shops, restaurants and entertainment. In addition to driving, the town is easily navigated by foot, trolley or even a Segway. This engaging town of approximately 12,000 residents captures the epitome of small town charm while being a short drive from numerous attractions available in Orlando.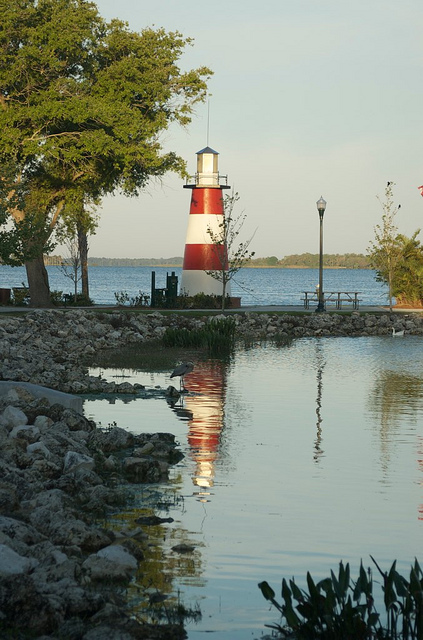 Visitors to Mount Dora will have ample opportunity to explore the many shops and boutiques that specialize in antiques, home decor, clothing, jewelry and fine wine. Art enthusiasts will enjoy discovering the town's inspiring collection of artwork and galleries. Also known for its fine cuisine, Mount Dora features a wide variety of restaurants, cafes and tea rooms that provide the perfect place to relax while enjoying a number of culinary delicacies. With exceptional attention to detail, Mount Dora is home to a variety of historical inns, cottages and bed and breakfasts noted for their comfort, warmth and charm.
Mount Dora offers a wide variety of activities for their guests to experience. With its mild year-round climate, outdoor activities such as fishing for black crappie or largemouth bass, kayaking past the town's historic lighthouse and hiking and biking amongst the region's scenic nature trails are ideal for taking in the picturesque beauty of this stunning location. Weekly and monthly events are held throughout the year as well as numerous annual festivals that include: the Mount Dora Plant and Garden Fair, the Mount Dora Spring Show, the Blues and Wine Festival and the Fall Craft Fair. Scenic Boat Tours, Speed Boat Tours and River Boat Cruises provide an extraordinary experience for taking in the grandeur of this scenic region, and the Mount Dora Lunch and Dinner Train offers an exceptional ride throughout Florida's countryside. For an up-close look at nature, outdoor enthusiasts will enjoy exploring the many state parks and gardens found throughout this exceptional region.