Milos is one of Greece's more sought-after island destinations, with white washed buildings perched on steep cliffs, plentiful beaches, ancient historical sites, and Mediterranean beauty.
An ancient volcano between Athens and Crete, Milos is not big, only 14 miles wide and 8 miles long with 4,700 residents. It is a mountainous island thanks to its volcanic past, with steep crater walls disappearing into its deep water harbor and an uneven landscape. It's highest point is Mount Profitis Elias, 2,454 feet.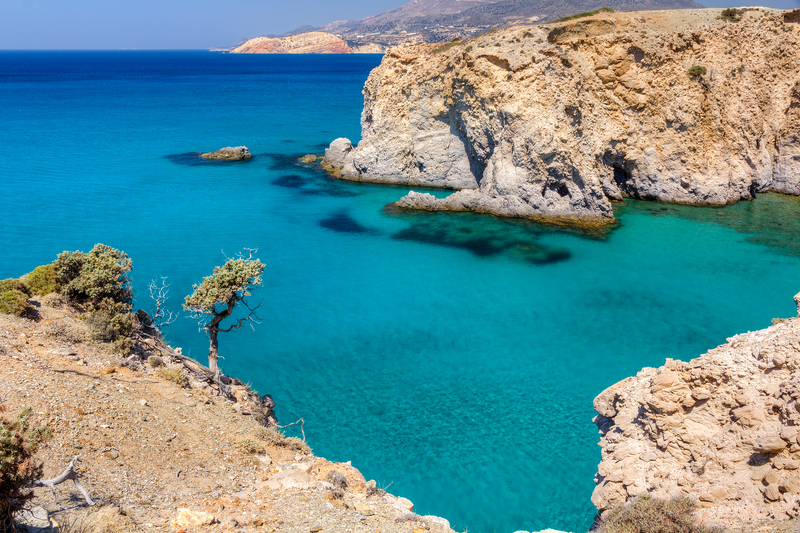 Milos is a typical Cyclades Island in that despite the plentiful blue waters surrounding it, it has a fairly dry and arid climate. This results in an absence of lush vegetation. However, the temperatures are mild year-round and there is plenty of sunshine.
In ancient times, Milos was known for its obsidian, a black volcanic glass that is still plentiful on the island. Ancient settlements on the island, including the old city of Milos, thrived on this industry. The main village now is Plaka, located on a plateau above the harbor. Adamas is the port city and main entrance to the island. Several famous artworks have been discovered on Milos, including a statue of Aphrodite, the goddess of love.
There are two ways to get to the island of Milos: by airplane via the Milos National Airport, or by boat from another island or the mainland. The direct boat service from Athens takes 5 hours and is the cheapest. High speed boat service is expensive but can be as swift as 2.5 hours. Airplane trips from Athens are only 30 minutes long and several direct small-plane flights go to Milos each day.
Diving, horseback riding and yachting are all popular activities on Milos. Mediterranean waters are known for their cobalt and turquoise hues and marine life abounds near the shore. Sandy beaches make for memorable horseback rides and, for those who prefer life above the waves, sailing or canoeing is available. The towns on Milos also have a vibrant shopping, music and restaurant culture.
Some of Milos' major attractions include archaeological sites, like the ancient city of Klima with its Roman theater and the prehistoric settlement of Fylakopi. There are also early Christian catacombs on the island. The northern part of Milos contains a geological wonder, Sarakiniko, a moonscape-like shoreline with water- and wind-carved volcanic rocks that jut out into the Mediterranean Sea. It is one of the most photographed places in the Greek islands.