Day Trip from Budapest to
Lake Balaton, Hungary
Whether one resides in
Budapest
or is simply visiting, a trip to beautiful Lake Balaton is a must. Travel time from Budapest to Lake Balatan is only an hour via the M7 motorway, so booking a guided tour is a good option, but those who would like to explore the region unassisted should rent a car. Because
Hungary
is a landlocked country, Lake Balaton is frequently referred to as the Hungarian Sea. Almost nine miles wide and 48 miles long, it is the largest lake in central
Europe
.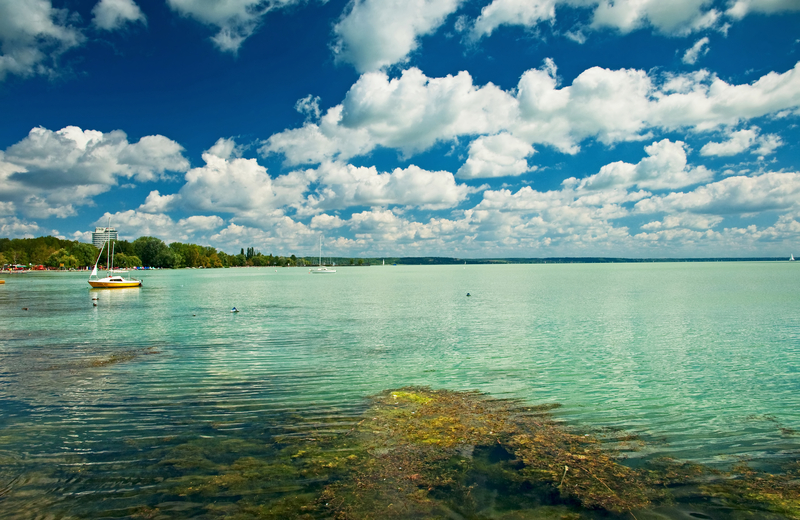 Historic Lake Balaton
Settled for centuries, the lake offers many historic sightseeing opportunities, such as the Tihany peninsula, where one can see Tihany Abbey and the tomb of King Andrew I, or the city of Keszthely, where one can take in the beauty of Festetics Palace.
Lake Balaton Wine Regions
Hungary is known for its wine, and the soil around Lake Balaton produces most of it. In fact, one could try to make a day out of exploring the four wine growing regions located around the lake:
Balatonboglár – Chardonnay
Badacsony – Pinot Gris
Csopak – Riesling and Cabernet Sauvignon
Balaton Highlands – Sauvignon Blanc
August is a popular month for wine lovers, for that is when vineyards contribute samples for Wine Weeks, which is the harvest celebration that is held at various places around the lake.
Summer Fun
Lake Balaton is very popular in the summer, and the city of Siófok is one of its most famous resort destinations. Located at the southern part of the lake, its sandy beaches and gradual depth increases make this area a favorite for families with small children. Also popular for windsurfing, sailing and fishing, this area hosts the Blue Ribbon Regatta biennially in July.
Dining at Lake Balaton
Because it is plentiful, fish, especially pike perch, is found at almost every restaurant around Lake Balaton, and Hungarian nationals come to the lake to get their fill. However, most restaurants do serve traditional Hungarian dishes like chicken paprikash and goulash.
Lake Balaton in Winter
When temperatures drop, Lake Balaton becomes a popular place for ice skating, sledding and even ice fishing.
Come Back to the Lake
There is much to see and do at Lake Balaton, so a one-day trip will never suffice unless it is repeated many, many times.