Located in the south-eastern Aegean Sea between Kalymnos and Nisyros, the island of Kos, Greece is a beautiful and exciting place to visit. Full of history, culture, fun night life, shopping and dining opportunities, and relaxing beaches, Kos provides for a perfect island getaway.
Kos Island is the third largest island among the Dodecanese Islands of Greece. Since prehistoric times, Kos has provided an important channel of the sea from the Black Sea to North Africa and also happens to be the birthplace of the famous healer Hippocrates. There are numerous unique and beautiful villages in Kos in which to experience the culture and history of the island. Some of these villages include Zia, Kos Town, Antimachia, and Kardemena.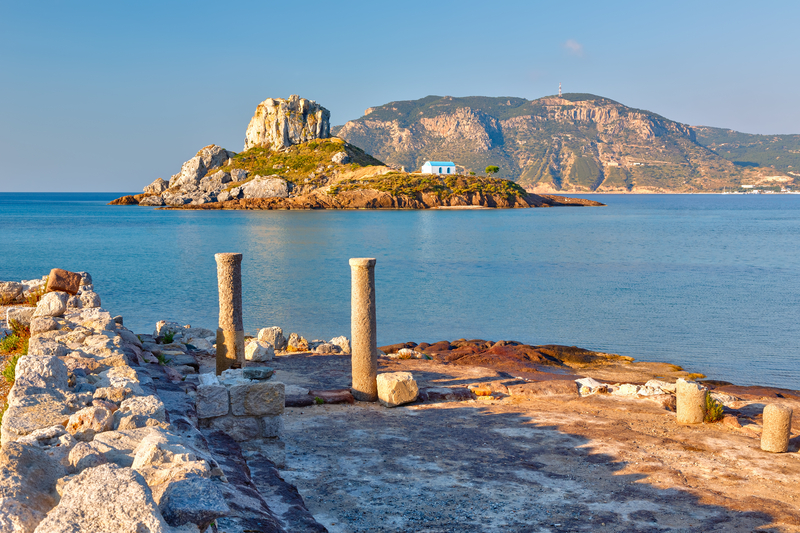 Kos Island enjoys a temperate, Mediterranean climate. Summers in Kos are normally hot and dry with very little rain. The winters are mild and there is plenty of sunshine and low humidity year-round.
There are over 20 spectacular and gorgeous beaches with crystal clear water and soft sand at which to enjoy some relaxing time in the warm sun. Many of the beaches have fine black sand, courtesy of the volcanic activity that has happened in and around the island over the years. Some beaches in the area of Kos include Mastichari, Thermes, Lambi, Marmari, and Paradise. Watersports, parasailing, snorkeling, and similar activities can be enjoyed at most of the beaches on Kos Island.
Opportunities to enjoy exciting night life on Kos Island are plentiful. Many types of music are featured at the various bars and clubs on the island and dancing is very popular, sometimes occurring all the way through the night and into the morning. The most popular spot to enjoy the night life is in the island's capital of Kos Town.
When visiting Kos Island, Greece, be sure to check out the many interesting points of interest to further catch a glimpse of the history and culture of the area. Asklepieion is an archaeological site that was once a healing center in ancient times. Nerantzia Castle, or "Castle of the Knights", is a castle that was built by the Knights of Saint John in the fourteenth century. Another great site to see is the amazingly well-preserved Roman Odeon, which is similar to the Colosseum from ancient Rome and was constructed in the second century BC.