Spanish explorers dubbed this island, "Islamorada," or purple island, for the colors of the flowers and the sky at sunset. Jump a few centuries to 1907 when William Krome established the townsite. It wasn't until 1998 that it was incorporated by the state legislature as "Islamorada, Village of Islands." It has a population of about 6100.
Located in the Florida Keys, Six islands make up Islamorada, Florida but the village is on Upper Matecumbe Key. Tourism is the obvious basis of its economy, especially the sport fishing aspect. It is accurately hailed as the "Sport Fishing Capital of the World." Sitting almost midway between Miami and Key West, it is not only a good stopping place, but a great destination.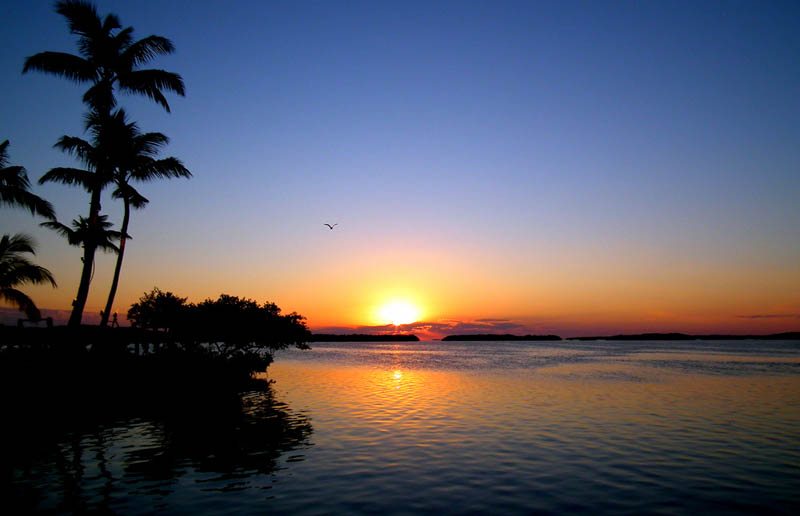 There are more things to do in this small Florida village and its surrounds than in the whole of some states. The water sports include kiteboarding, stand-up paddling, scuba diving, snorkeling, fishing, swimming and the inevitable parasailing.
Ecotours are easy to find at marinas, parks and resorts. A powerboat tour will visit areas that have coral formations, dolphins, tropical fish, crocodiles, manatees and exotic birds. Kayak and canoe tours are good alternatives and travel through sea-grass beds and shallow tidal flats.
This place is serious about sport fishing. Some restaurants will cook up a visitor's catch for dinner. Mahi mahi and snapper are good food fish. Catch and release fish are large sailfish, tarpon and swordfish, among others.
Islamorada Founders Park is 40 acres of fun. Boredom is not an option with an Olympic-sized pool and diving boards. There are ball fields and water sport rentals along with a fishing jetty, basketball, tennis, bocce, a skate park, a multi-purpose path, and a dog park. There is also a shallow-water beach and a vita course with 18 exercise stations. It's exhausting to think about.
The Marine Mammal Park, called Theater of the Sea, is an in-the-water family activity. Swim with dolphins, sting rays and sea lions in natural salt-water lagoons that are 10-15 feet deep. There are also shows with parrots and shows with dolphins and sea lions and a bottomless boat ride.
The tropical climate is conducive to doing everything outdoors, including eating and drinking. Water-side dining and drinking are plentiful. Some restaurants can be reached by boat if guests just can't tear themselves away from the water. Ocean-front dining is upscale and not inexpensive. Land-based dining is available in many different cuisines.
Islamorada is for tourists.