Granada is located in southern Spain in the autonomous community of Andalusia. It is well-known for its Moorish art and architecture, dating back to the eighth century AD. Granada has historically been the home of Jews and Moors in Spain, and this influence is seen in places such as the Alhambra and the Albaicin. In 1492, the Moors and Jews were exiled from Spain in the Reconquest, led by Queen Isabella and King Ferdinand, but their legacy remains throughout the city of Granada today.
On average, Granada has temperate to warm summers and relatively cool winters. The best months to visit Granada are between May and October, where the temperatures range from 60-75 degrees Fahrenheit. The summers in Granada are usually dry, which makes it much more pleasant for traveling around town than in the more humid areas. Although winters can be very cold, usually the temperature hovers around 35-40 degrees Fahrenheit.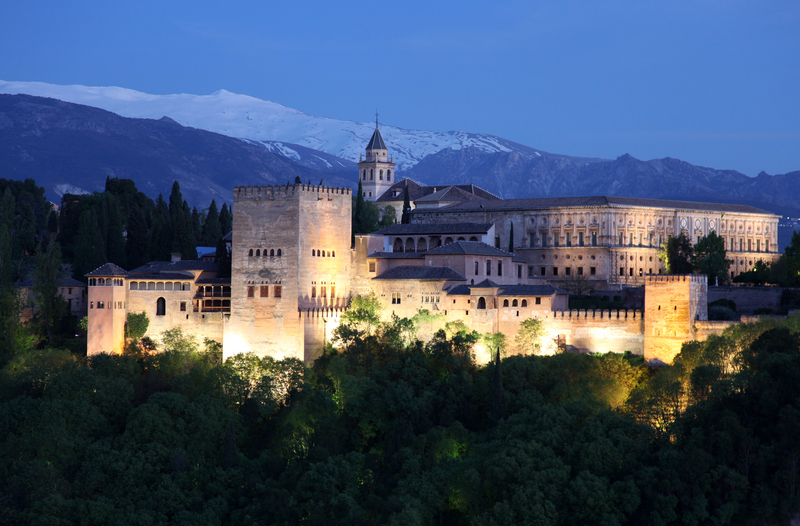 Some of the most popular tourist destinations in Granada are historical landmarks of Moorish influence, including the Alhambra, the Albaicin, and the Generalife. The Alhambra is perhaps the most frequently visited of these. It is a Moorish castle dating back to the thirteenth century as a military base, and then it became a royal residence for the Granadan court. It is located on a rocky hill and is surrounded by woods and mountains, providing a beautiful scenery for guests to observe and take photos.
Granada is also known for its abundance of old cathedrals. Many of these cathedrals, including the Cathedral of Granada and the Royal Chapel of Granada, are built over old mosques. The Cathedral of Granada was built shortly after the Reconquest and features Renaissance artistic styles in its architecture. The Royal Chapel of Granada was also built on top of an old mosque, and it is the burial site of King Ferdinand and Queen Isabella and their children. As a result, it is also a great place to learn about the history of Spain, especially in terms of religious history and art history.
The various districts in Granada provide visitors with an opportunity to learn about the rich history of this city. There is a district called the Realejo, which was home to many Jewish communities in the past. There is also a section called Sacromonte, which was home to a large gypsy population and today is home to the Museum of Sacromonte, where visitors can learn about gypsy culture and the history of this area. Sacromonte is a popular destination for those interested in hearing flamenco music, a popular style of music and dance that is practiced throughout Granada.
The rich history and diversity of Granada make it an excellent destination for anyone traveling to Spain. There is truly something for everyone here, including great food, music, shopping, museums, art, and history. Learn about Spanish history and culture in this great city in southern Spain.