Geneva, the second-largest city of Switzerland, is a center of international relations. The city has served as a hub for the United Nations and the location of the International Red Cross and the World Health Organization.
Geneva had a decisive role in history. In the 1500s, Jean Calvin fled the Protestant persecutions in France and turned Geneva into a center of the Protestant Reformation. This movement influenced all aspects of Geneva's society. Geneva remained a self-governing republic until the 1800s when it became a Swiss canton.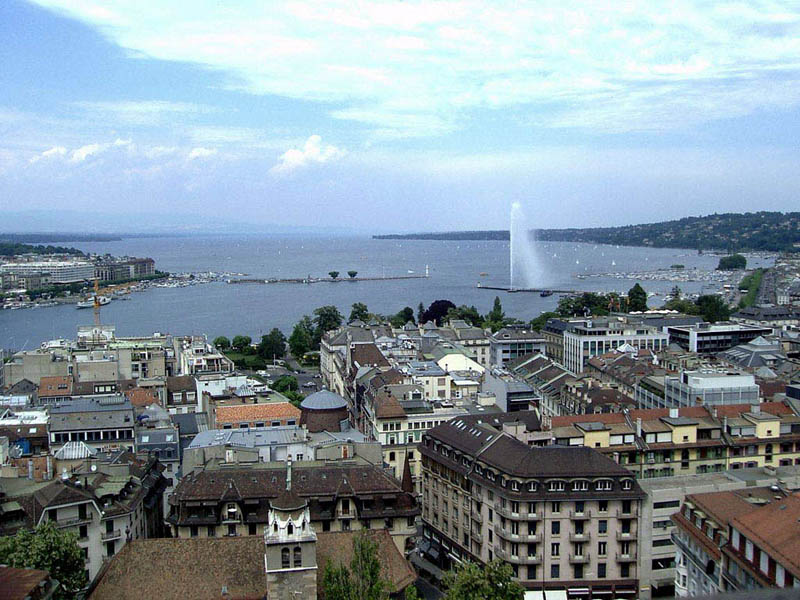 Geneva is one of Switzerland's French speaking towns, so all the signs and information are in French. Because of its international importance, many other languages are spoken.
Geneva, as in most Swiss cities is served by efficient public transport, including boat, bus, tram and trains. In addition, the old-town is easily accessible by walking beginning around the dock for the tour boat on Lake Geneva or starting from the Cornavin station. The walk can start toward Bel-Air Island and on to the old town. By crossing the bridge, Pont du Mont Blanc, visitors can reach the English gardens highlighted by the flower clock and a water fountain sculpture made of bronze. Other sites are Quai de General Guisan, and Saint Peter's Cathedral. Bastions Park, with its Reformation Wall Memorial is down the street.
Jet d'Eau, the Rade, one of Geneva's ultimate icons, is a cascade of water pumped high into the air. Originally, the column was a release of water from the pumping station, but since it was so popular, in the 1890s the city fashioned a permanent fountain. It is lit at night with the best view from a distance.
St. Peter is Cathedral, formerly the Catholic Church, represents the essence of the Reformation. The Espace Saint Pierre includes the entrance to all three sights, including the church, the archaeological location and the International Museum of the Reformation, which is on the ground level of the Maison Mallett. The top of the towers provides a view over the lake and Geneva. The Auditoire, where Calvin was a teacher, is close.
The Palais des Nations is another site with an international influence. Originally, it was home to the League of Nations. It is worthy of a visit to view the Assembly Hall, as well as its art collection, library and gardens. Passports are needed to enter the building.
Geneva offers visitors a variety of sites to visit. The city is a center of international diplomacy, museum, Reformation history, museums and parks.
The town is the entryway into the French-speaking part of Switzerland and to the French Alps.