Across the Euripus Strait from the Greek mainland lies the island of Euboea. Also known as Evia, this island is part of a great mountain chain forming the eastern border of Thessaly and extending beyond Euboea to form the neighboring islands of Mykonos, Tinos and Andros. Euboea has a rich, colorful history and today is a growing tourist destination.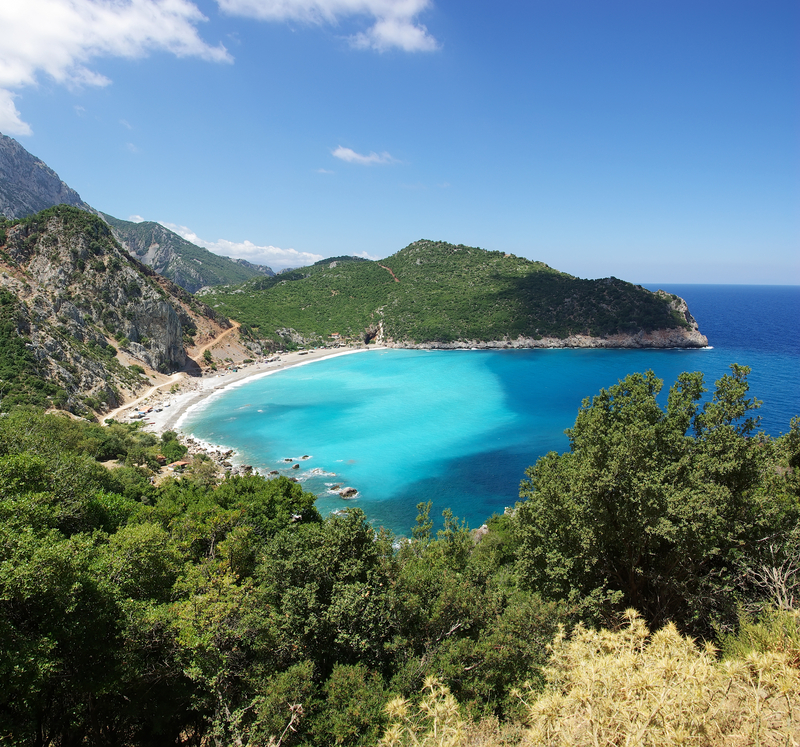 The island was settled by Ionian Greeks from Attica, who established the island's major cities, Eretria and Chalcis. These cities grew to prominence and became colonizing powers in their own right, establishing the colonies of Sicily, Cumae and Rhegium among others. Because of its wealth and strategic position, Euboea was a choice plum and much desired by the mainland Greeks. In the fourth and fifth century BC, both Eretria and Chalcis were defeated by Greeks who forcefully deported the residents and moved their own colonists onto the island. Throughout the Middle Ages the island was fought over and occupied by the Lombards, the Venetians and the Ottomans, finally becoming a part of the Greek state established by the Greek War of Independence in 1830.
Today Euboea is a perfect holiday destination for travelers because it has been largely undiscovered by tourists until recent years. Now the island is slowly coming to the attention of the world, but still remains relatively unspoiled. There are archaeological sites, excellent spas and beautiful beaches with good diving.
Ancient Chalcis, now spelled Khalkis, is still the principal city of the island, and attracts countless travelers. Visitors can see the ruins of the old walls in the Kastro, a Turkish district, as well as the fifth century church of Ayia Paraskevi and the ancient aqueduct. Just outside the city is the Kastelli, a 13th century Venetian castle from the island's period of Latin domination. Moving out from the city, travelers can see the archaeological dig at Ramnous with its burial grounds, ruined fortress and sanctuaries. In the village of Ayia Thekla there is a 15th century church with exquisite frescoes.
Euboea has natural geothermal springs that have been praised for their therapeutic value since ancient times. Today visitors can have a luxurious spa experience at Loutra Adipsou or Kamena Vourla, a restful interlude in a tour of Euboea's northern coastal region.
The natural scenery is a main attraction in Euboea. Hikers and divers can find countless little-known places of stunning beauty waiting to be explored.
>

Greece

Islands of Greece