Epcot Center is an amazing part of the overall Disney World Resort experience. There are two distinct areas at Epcot that have many fascinating exhibits, rides, and attractions. Future World focuses on technology, while World Showcase features the cuisine and culture of eleven different countries.
Future World
In Future World a guest will experience technology from the past, the present, and into the possibilities of the future. One of the highlights of Epcot is Spaceship Earth, the huge silver ball that is the signature of Epcot. Inside is a ride that takes visitors on a journey of man's history and all the technological advances along the way. Children and adults will love Captain EO, which features Michael Jackson as the commander of a spaceship in a 4D movie experience. Mission Space is a thrill ride that offers two different levels, one with G force, the other without. This ride takes place in a mock-space capsule. In Test Track, a visitor can design his or her own car and then experience how the design stands up on the track. Soarin' is a simulated ride in which guests sit in a hang glider that "flies" over California. These are but a few of the attractions to experience in Future World.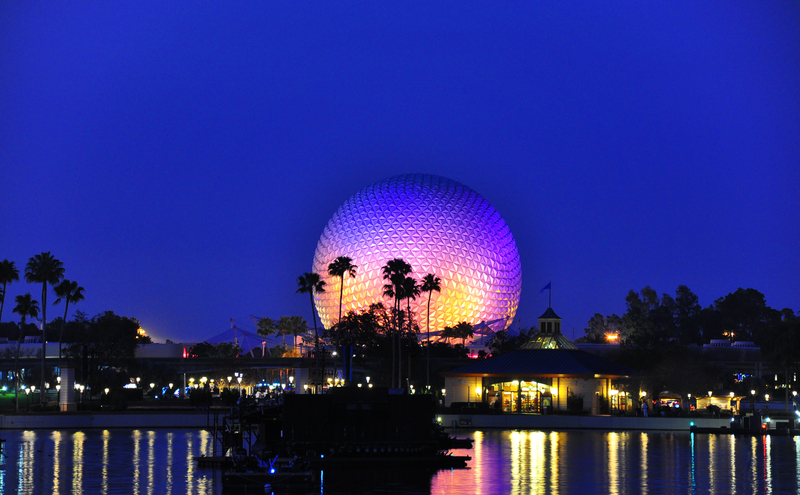 World Showcase
Themed pavilions offer guests the opportunity to explore the unique culture of several countries. The countries showcased are France, Germany, China, Italy, Japan, Canada, Mexico, Morocco, Norway, the United Kingdom, and the United States. Within each country is a variety of restaurants, attractions, and stunning architecture. The following is a more detailed description of a few of these countries.
Finally, Illuminations, a massive nighttime event that includes lasers, fireworks, videos, fire, and phenomenal music, should be on any visitors list of must-see attractions.