Dijon is the Capital of Burgundy, France, and is located between the cities of Lyon and Paris. Dijon is rich in culture and history, and is known as a city in which art and international gastronomy thrive. Dijon has a reputation for good food and wine, as well as famous landmarks and museums.
Dijon was once called Divio, and began as a Roman settlement which was little more than a wide spot on the main road between Paris and Lyon. The patron saint of Dijon, Saint Benignus, was martyred in the city shortly after introducing Christianity to its residents.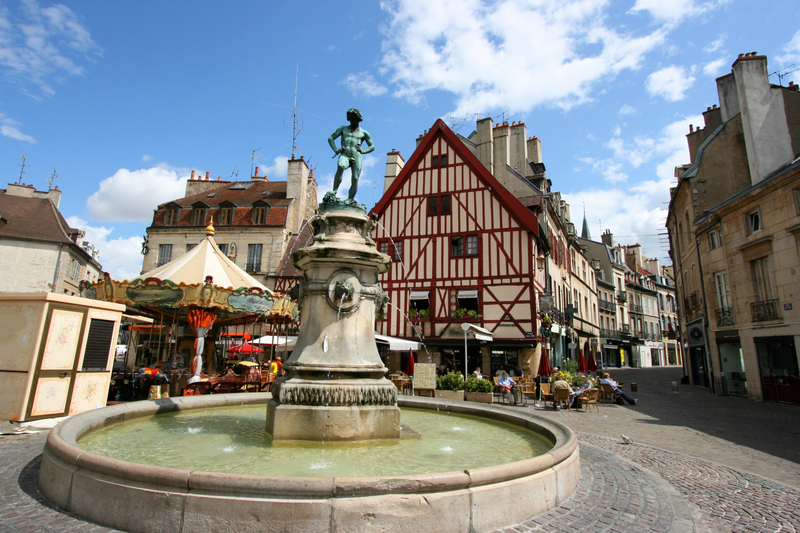 The Duke of Burgundy changed the city's name to Dijon in the beginning of the 11th century, and his descendants continued to develop the area until the 1400s when it became a mecca of power and wealth. The city played a major role in Europe during the Renaissance, and became famous throughout the continent as a cornerstone of science, art and learning. The city was occupied by Nazi Germany during WWII, but was liberated by a joint effort of French, United States, and United Kingdom troops in September of 1944.
The church of Notre Dame is one of Dijon's most recognizable landmarks, and the structure is famous for its architecture as well as its art. The stone owl that is perched above the main entrance to the church is considered a good luck charm by both tourists and local residents.
Dijon is also home to a vast array of museums and art galleries, including Dijon's Museum of Fine Arts located in the west wing of the Ducal Palace. The museum is home to a considerable number of artistic treasures, such as a full collection of Roman paintings which date back several centuries.
Dijon hosts its International Gastronomic Fair each year, usually in September or October. Those visiting Dijon during this time will not want to miss this exciting event where more than 500 vendors gather to demonstrate their culinary skills. This festival is regarded as one of the country's most important events.
Taking a wine tour through Dijon is always a relaxing and enjoyable experience, and is definitely an activity no visitor will want to miss. Those who are partial to wine tours and similar activities may also wish to consider taking one of Dijon's culinary tours.
Visitors who enjoy activities such as biking, swimming or hiking will definitely feel at home in the city, as Dijon offers a wide selection of such sports. One can even indulge in a barge tour, which is a guided excursion featuring a vast array of interesting activities for visitors of all ages.
Many people consider Dijon's weather ideal, as extreme temperatures are rare regardless of the time of year. The average summer temperature is 75 degrees Fahrenheit, with very little humidity except in the month of August. The coldest winter temperatures hoover around 40 degrees Fahrenheit.
Those who travel to Dijon will quickly discover that the city is alive with art, history, and romance. An intriguing area of the world offering something for everyone, Dijon is a wise option for those who are searching for the perfect vacation destination.