The Cinque Terre, or "Five Lands", is a small region in northwestern Italy along the coast of the Ligurian Sea. The area consists of five villages built on terraced hillsides among a landscape of woodlands, rugged hills and amazing coastlines of cliffs and beaches. The Cinque Terre National Park has been declared a UNESCO World Heritage Site and is a very popular tourist destination. The summers in Cinque Terre can be quite warm and tend to attract many tourists, while the spring and fall are less populated though subject to frequent rains. To get into Cinque Terre, one need only take a train from Pisa or Genoa into La Spezia and then continue to the villages via a local train or by taking a boat along the coast.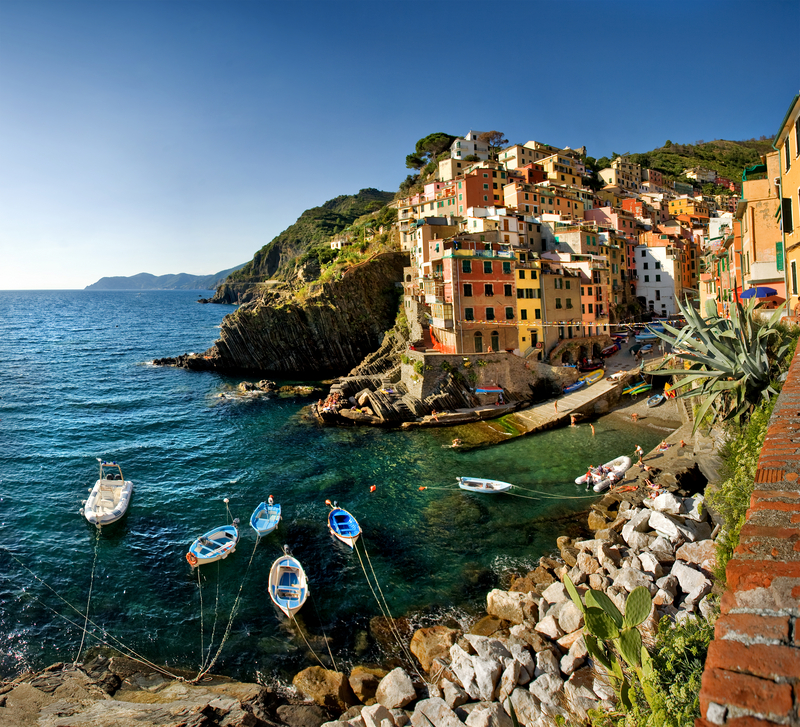 The villages of the Cinque Terre are Monterosso al Mare, Vernazza, Corniglia, Manarola and Riomaggiore. Each one has its own unique flavor and style and all are beautiful. Any village that one chooses to visit has its own fair share of hotels, inns, bed and breakfasts and youth hostels to stay at. Some local residents even sublet their apartments, for those who wish stay someplace a little more like home. The Cinque Terre is known for its fine dining, boasting more than 200 local dishes. While seafood is what this coastal area is popular for, there are plenty of restaurants to choose from. The villages of the Cinque Terre have all the luxuries that a tourist could hope for, including massage, bars, both walking and boat tours, and plenty of places to shop.
Most people visit this area because of the amazing trails that run from village to village through the breathtaking countryside. The Sentiero Azzuro is the main trail which connects all the villages and is a fairly easy five hour hike, though due to the large number of tourists and their impact one must purchase a pass to hike this trail. There are many other free trails that involve a bit more hiking to get around, but the views of the region can be well worth going off the beaten path. Some may prefer to see the region by sea, taking a boat tour or renting a kayak or canoe. Others might choose sign up for one of the walking and wine tours to get a little bit of everything in their visit.
Each of the villages also hosts their own beautiful, historical architecture. Corniglia is home to the San Peitro church, built in 1334 in gothic style. The Church of San Francesco in Monterosso al Mare is a 17th century parish which contains some gorgeous artwork. The Torre Aurora, also in Monterosso al Mare, is an amazing medieval tower that rests along the coast. Just outside the Riomaggiore harbor rests the Torre Guardiola, a nature observation and bird-watching center, for those who wish a stunning view of the area. Aside from these testaments to the past, the villages themselves are wondrous to behold with their own unique buildings in a range of styles that span across the years.
During the tourist season finding a place to stay in the Cinque Terre can be next to impossible, so planning ahead is important. Going during the off-season can be the best way to avoid the crowds if one is willing to get a little bit wet. Either way, for a tourist who just wants to relax or one that wishes to get out and be active, the Cinque Terre has options for everyone.