Are you wondering why you should plan a visit to
Mexico City
? Do you enjoy
New York
,
London
,
Paris
,
Rome
, or
Tokyo
? Are you a history buff? Do you enjoy museums of all kinds, vast parks, and excellent cuisine? Would you like to visit a pyramid then enjoy a vast choice of entertaining nightlife? Well you can have this and more in Ciudad de México, a truly world class city.
Mexico City is
Mexico's
capital and largest city. With an estimated population of about 9 million Mexico City is also the largest city in all the Americas and with over 20 million people, its metropolitan area is behind only Tokyo and Seoul in size. As a federal entity within Mexico, it belongs to the federation as a whole and is not a part of any
Mexican State
. As a result, Mexico City is the most important political, financial, and educational center in the country. More importantly for the tourist, it is also Mexico's cultural and historical center.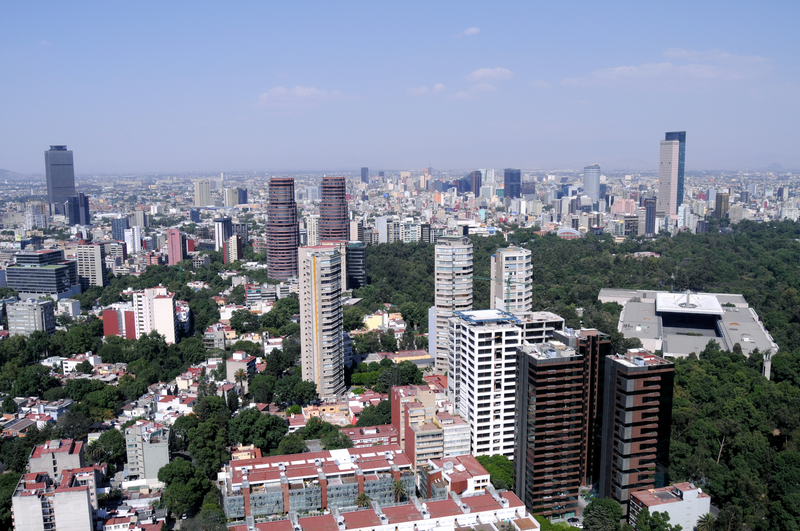 Located in the Mexico Valley Basin in the high plateaus at the center of the country, Mexico City boasts an altitude of 2,240 metres (7,350 ft) and a semi-tropical climate. The average annual temperature of 12 to 16 °C (54 to 61 °F) includes high temperatures in late spring and summer that reach up to 32 °C (90 °F) and lows that may reach freezing temperatures in January and February but snow is an historical event. From June to October is the rainy season and the dry season lasts from November to May.
Originally built in 1325 by the amerindian Mexica or Aztecs on an island of Lake Texcoco, the old Mexica city is now called Tenochtitlan. Destroyed by Cortés in the 1521 siege of Tenochtitlan, the city was rebuilt in Spanish form and Mexico City was established as a municipality in 1524. After independence was declared in 1831, Mexico was declared a republic in 1824 and Mexico City became its capital.
For many the size of Mexico City can be daunting and many first time visitors confine their visits to the central areas of the city with a side trip to the pyramids of Teotihuacan thirty miles north. Depending on your hotel's location, many attractions will be a short distance away and Mexico City has an excellent Metro system. The neighborhoods of Centro Histórico and Zona Rosa are particularly popular with tourists.
The "Zócalo" or Plaza de la Constitución is in Centro Historico and is perhaps the ideal starting point for any tourist. On the Zócalo is the Museo del Palacio Nacional with murals by Diego Rivera. In Zona Rosa, Paseo de la Reforma is an elegant boulevard lined with magnificent monuments including the bronze Angel of Independence, the unofficial trademark of México City.
A must visit is Chapultepec park, a 2000-acre green area in the middle of the city. Chapultepec park alone contains enough of the city's attractions for a short vacation by itself. Within the park are three of the city's most important museums: Museo de Arte Moderno, Museo Nacional de Antropología, and Museo Nacional de Historia.