The town Carrickfergus, Northern Ireland was made famous with the folk ballad called, "Carrickfergus." The small coastal village has a population of around 30,000. Known locally as Carrick, the town of Carrickfergus means "Fergus' rock" in the Irish language.
Situated on the northern edge of the Belfast Lough that opens into the Irish Sea on the east coast of North Ireland, the town is in County Antrim. The capital city of Northern Ireland is Belfast, and Belfast is only about 18 kilometers down the shores of Belfast Lough from Carrickfergus.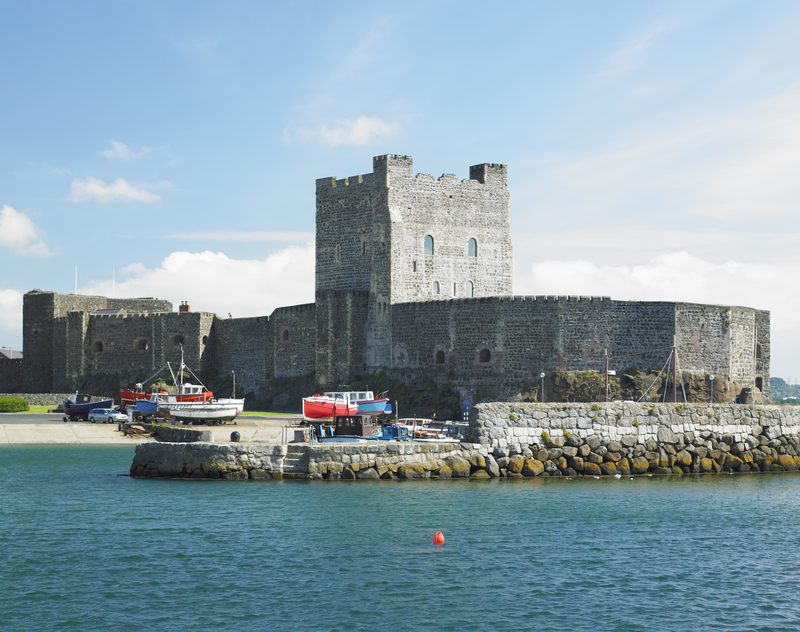 The area experiences a maritime climate like much of the British Isles. The temperatures are moderate with winter averages around 6 or 7 degrees Celsius, and about 18 degrees in the summertime. Clouds and overcast skies are common, and verdant green is the color of the landscape.
Fergus or Fergus Mor mac Eirc was Dal Riata's king in the 500s AD. Dal Riata was located where County Antrim is today. Settled in the late 1100s, Carrickfergus is a much older settlement than is Belfast. In fact, Belfast Lough used to be called Carrickfergus Bay until the 1600s.
Fergus' rock where the castle was built and for which the town was named became thus titled because King Fergus grounded his ship on that particular rock in the mid-500s. The rock is a jagged volcanic dyke near the water's edge. King Fergus was returning from Scotland.
The heart of the town is where the old walled city used to stand. Some remnants of the wall remain. On Fergus' rock, the knight named John de Courcy constructed the castle in the 1170s for the Anglo-Normans. Carrickfergus Castle is a well-preserved example of Norman castles to this day, an impressive monument and landmark. Visitors are welcomed to take self-guided tours of the historic fortress.
John de Courcy had the Saint Nickolas' Church built within 10 years after the castle. This historic stone church is still in use today as a sanctuary for worship. Its spire rises above the town. Visitors are also always welcomed to the church services and tours of the building.
Other sites of interest are found around Carrickfergus. Green golf courses by the sea are lovely places to spend the afternoon. The marina and waterfront area is great for strolls. Then, Flame – The Gasworks Museum of Ireland gives a remarkable look at the local history during the Industrial Revolution.