Calella is a seaside town in Catalonia, Spain, approximately 35 miles northeast of Barcelona. It is situated on the Costa Brava coast between Pineda de Mar and Sant Pol de Mar. In the 1960s, tourism began to thrive in the community and has continued to do so ever since. Prior to this, the residents of Calella focused on fishing and textile manufacturing for their economic survival. The population of Calella is 18,000; however, this figure has been known to triple during peak vacation season.
Those who enjoy culture and history will be pleased to know that Calella has an interesting past, dating back to the Medieval era when the town was developed under hegemony of Barcelona's Counts. Southwest Calella boasts an impressive lighthouse, which was constructed in 1859, and features two towers called "Les Torretes." Calella is also home to a historical museum, which contains works of art dating back to the Roman era. The Santa Maria Church is another outstanding historical landmark that deserves a place on every visitor's must-see list. The church is located next to a popular attraction called the Casa dels Salvadors, which is a residential structure built in the 1300s for a local wealthy family.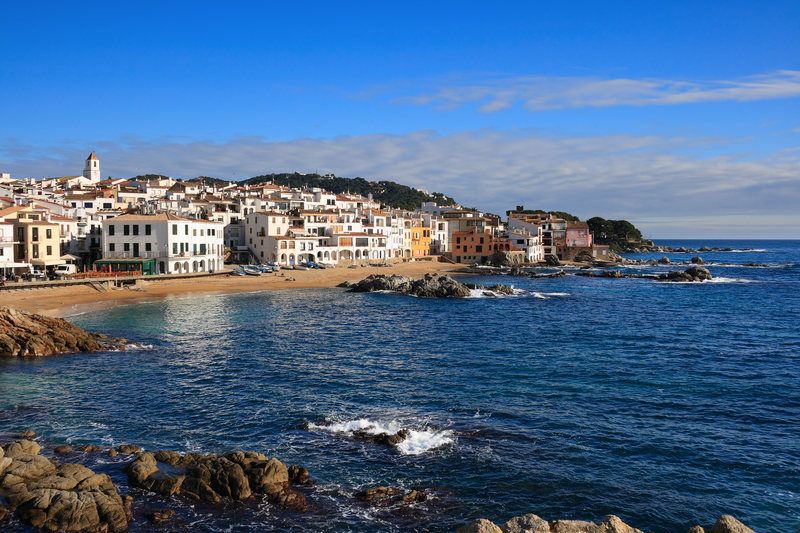 Calella Beach is open to the public, and is a favorite of tourists and residents alike. The beach is just over one mile long, and its south end is relatively quiet, while its northern end is a bit livelier. The beach consistently receives the European Blue Flag Award for cleanliness and exceptionally good maintenance.
The rest of the area's beaches span several miles, and offer visitors a mixture of course and fine golden sand. Similar to Calella beach, the surrounding beaches are also awarded the Blue Flag for superb maintenance on a regular basis, making them perfect for family vacations. There is a wide selection of water sports in Calella in which visitors can indulge, such as snorkeling, scuba diving, sea kayaking, sailing, surfing, jet skiing or water skiing, and the main beach is also home to a water sports club and sports center.
Vacationers can also indulge in a vast array of land activities in Calella, including aerobics, football and beach volleyball, and children's activities are available for youngsters ages 6-16 at the sports center. One can also enjoy additional activities in the immediate area, such as rollerblading, horseback riding, bicycling, golf, tennis or fishing. Regardless of one's personal preferences, Calella offers something for everyone, and is the ideal backdrop for a pleasant and memorable vacation.