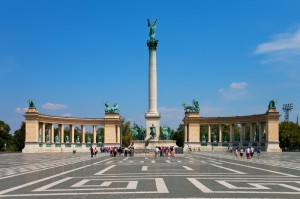 Budapest is the capital city of Hungary. This central European country located near Romania, Austria, Serbia, Croatia and Slovakia. Resting on the banks of the Danube, the longest river in Europe, Budapest has a long history that's been shaped and touched by many civilizations and cultures. Visitors can stare at an assortment of architectural styles, stroll through beautiful parks, take a boat ride along the Danube, shop and explore museums. The city has much to offer those who are interested.
In 2010, Budapest had about 1.7 million residents, a fifth of the entire country's population. The city has had its sure of turmoil, passing from the hands of the Celts, to the Romans, the Bulgarians and the Ottomans before it became the capital of Austria-Hungary. After World War II and some Soviet attacks, it had to be partially rebuilt. Many religions have left their print on Budapest architecture and history, including Catholicism, Christianity, Islam and Judaism. Despite all its turmoil and changes, the city continues to prosper.
With its extensive history, Budapest is an architectural jewel. It also has several World Heritage sites, including Heroes Square, the Academy of Music, the Buda Castle Labyrinth and the banks of the Danube. You can take tours by boat or by foot. You can also explore on your own. When you see something that looks interesting, stop by. Other things to see include:
*Széchenyi Chain Bridge: First permanent bridge connecting Buda and Pest
*St. Stephen's Basilica: Commemorates Hungary's first Christian King
*State Opera House
*Széchenyi Thermal Bath: One of the largest bathhouses in Europe
*Castle Hill
Any of the things you see as you go that sound interesting warrant a visit. Some others that you may want to stop for include:
*Municipal Circus: Held its first performance in 1891
*Budapest Zoo: Has an elephant house
*Budapest History Museum: Depicts the city's archaeological finds and the city's history back to the 13th century
*Dohány utca Grand Synagogue: Europe's largest synagogue and museum
*Museum of Fine Arts
*Amusement Park: Dates back to the early 1800′s, rides include a wooden roller coaster and a merry go round
Budapest has several places where you can get in some excellent shopping. You can buy fresh fruits and vegetables at the Central Market Hall. There, you can also find paprika, tablecloths, Russian dolls and other souvenirs. For clothing, visit Fashion Street, located near the heart of the city.
Many people consider Budapest the food capital of the world. For several centuries, even during communist reign, food has been a passion for many of the city's residents, writers and poets. For some of the best delicacies, consider:
*Csalogány 26
*chapterOne
*Belgian Brasserie
*Cyrano
*Le Jardin de Paris
*Cafe Kor
With warm summers, cool winters and plenty of interesting things to see and do, a visit to Budapest is worth it.