Belfast, Northern Ireland has a millennium of documented history and has been inhabited since the Bronze Age. It is a city of over half a million people and the capitol of Northern Ireland. The name, Belfast, means something like "sandbar at the mouth of the rivers." It was an ideal location for ship building.
Since the the century anniversary of the Titanic sinking, Belfast has been in the news for its museum, Titanic Belfast. It tells the story from beginning to end and events afterwards. Called "The Iceberg" for its silvery aluminum, block-like appearance, it sits on the grounds of the former Titanic ship builders, Harland and Wolff.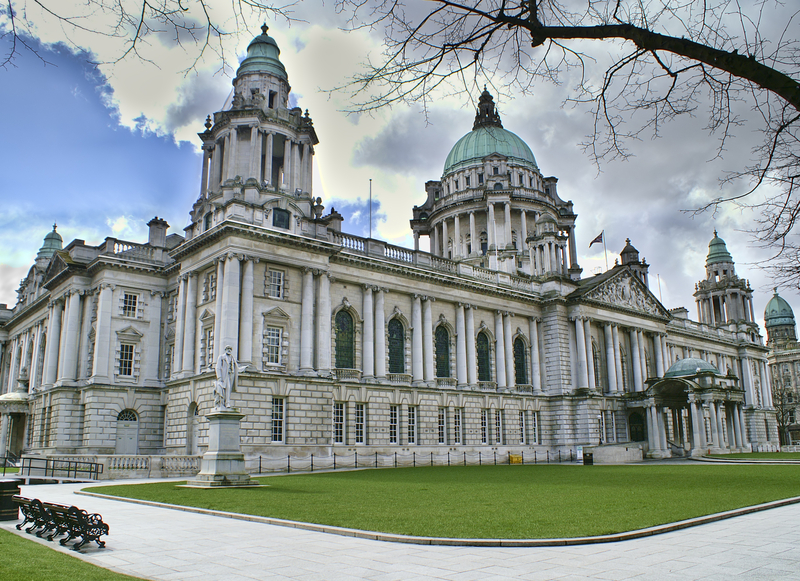 Visitors will not want for restaurants and bars in Belfast. From very inexpensive fare to fine dining, it is well-stocked with food and beverage purveyors in every quarter. The Black Taxi tours provide information about all aspects of Belfast, including dining and drinking establishments, and the tour ends with a Guinness and a bowl of Irish stew. This simple fare tastes divine in Ireland and cannot be replicated elsewhere.
The Troubles in the 1970s drew attention to Belfast for the tragedy and violence of the Catholic-Protestant conflicts and frequent murders. Since the 1998 peace treaty between Republican and Loyalist factions, peace has reigned and tourism has boomed. The Belfast Murals Tour is a good way to learn about this sad history and the hard-won path to peaceful times.
The western part of Belfast, where many incidents occurred, has murals depicting scenes from those times, and visitors can talk with individuals who were involved as activists, former prisoners or educated guides. Some who went on hunger strikes, MPs, peace negotiators and escapees from the horror of jail are also available to talk with on some tours. There is no more authentic account about this time period and what it meant because both sides are represented.
Since Belfast and Northern Ireland are part of the United Kingdom, there is a long history of English-Irish conflicts over ownership, culminating in the 1922 partitioning of Ireland. The Parliament Buildings at Stormont, in Belfast, were built in 1932 to house the Northern Ireland Assembly. Tours are open to the public.
Belfast has also been known as a producer of linen since the 1820s. Good linen is easily found in stores around Belfast for beautiful, easy to carry gifts. Belfast has survived and prospered, and welcomes the world.