The official name of the Barcelona Cathedral is the Cathedral of the Holy Cross and Saint Eulalia. This Gothic style house of worship is the seat of the Archbishop of Barcelona, Spain. Construction began during the 13th century and was completed in the 15th century. The building replaced another basilica that was destroyed during a Moorish Invasion. Architects adorned the original Catalan exterior with a neo-Gothic façade in the 19th century and a church spire in 1913. The roof has gargoyles in the shapes of indigenous animals and mythical creatures.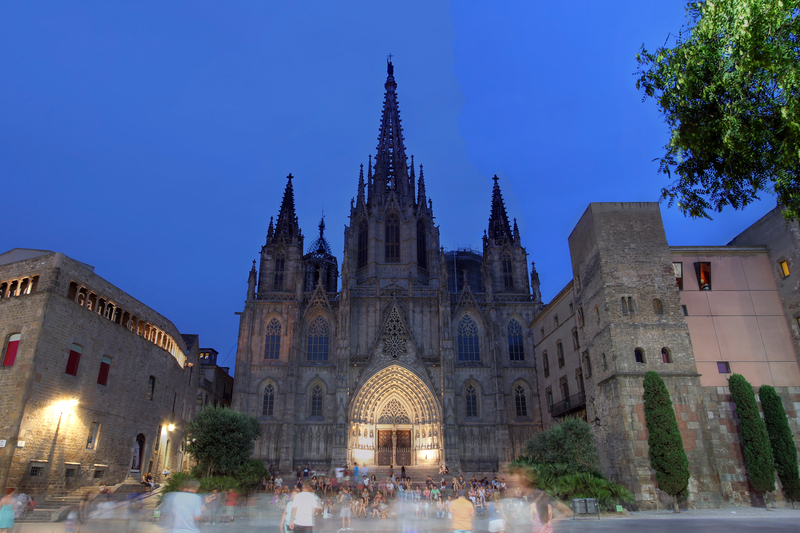 Within the edifice is the crypt of the Visigoth chapel that previously occupied the site. A raised altar provides an unobstructed view of the ancient tomb. One of the largest religious buildings in Barcelona, the church has a small museum and central nave with more than 20 side chapels. Each chapel is dedicated to a different saint or significant event in the history of the Catholic Church. One of the most famous chapels is the Capella del Sant Crist de Lepant, which has a statue of the crucifixion that was onboard a ship at the Battle of Lepanto in 1571. According to oral tradition, the figure on the cross moved during the battle to avoid being struck by a cannonball. The crypt contains an ornate sarcophagus with the remains of Eulalia, one of the city's patron saints. The Romans martyred the 13-year-old girl when she refused to renounce her beliefs. Choir stalls are adorned with the coats-of-arms of knights associated with the Order of the Golden Fleece.
A 14th century cloister is located adjacent to the cathedral. In addition to a lovely garden, it contains an equestrian statue of Saint George who is regarded as the city's other patron saint. The garden pond is known as the Well of the Geese for the flock of birds that the church keeps in the courtyard. The gaggle consists of 13 white geese, which represents Eulalia's age upon her death in 303 AD. During the feast of Corpus Christi, the church is the site of the tradition of the dancing egg. A clergy member removes the contents of an egg, replaces it with wax and decorates the shell. The egg is placed in the water jet of the cloister fountain, and it appears to dance in the stream of water.
An elevator located inside the cathedral takes visitors to the roof where they can enjoy panoramic views of the city.