Most guests who consider the offerings of Pisa, Italy, immediately think about the Leaning Tower of Pisa. However, the location offers a bountiful array of architectural feats that deserve equal if not more attention. The Baptistry of St John, Pisa, Italy an architectural marvel, abounds with beauty, design and historical significance that every guest has the opportunity to appreciate.
The building draws on traditional Italian Romanesque and Gothic architectural influences. The baptistery was the second structure to be completed in the Piazza dei Miracoli after the completion of the Duomo Cathedral to signify the city's wealth and prominence.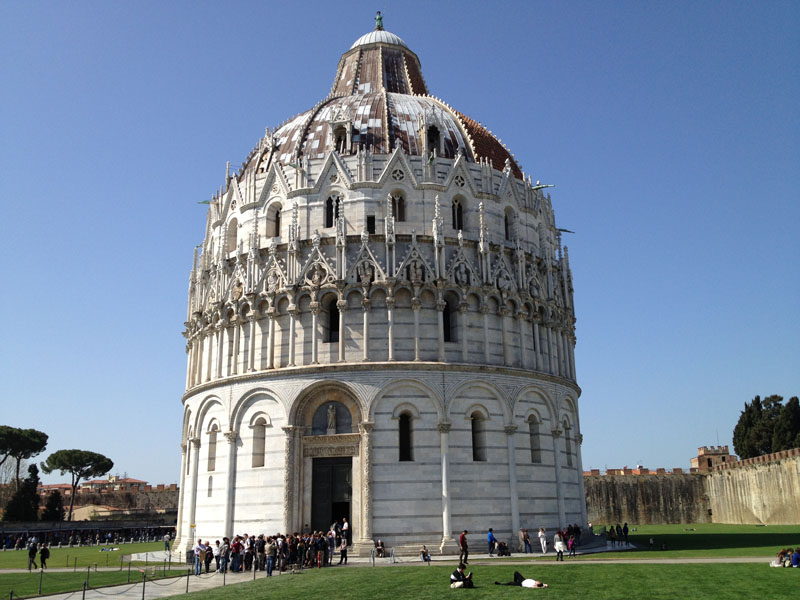 The completion of the building took 200 years, and it stands approximately 55 meters high, slightly taller than the Leaning Tower. The lower extremities of the baptistery consist of a spacious gallery buttressed by classical arches and pillars. The upper levels echo the Gothic style with sharp arches pointing to the heavens. Hovering above the entrance way of the baptistry is a relief portraying the life of Saint John the Baptist as well as one of Christ, the Madonna and a medley of evangelists and angels. The apex of the entrance is marked by a significant statue depiction of the Madonna with the child.
The interior of the baptistery features vibrant stained glass windows and the signature baptismal pool. The baptismal at the center of the space originates from 1246 and is large enough to accommodate baptisms by total immersion. An pillar reveals the identity of the architect responsible for creating the structure known as "Diotisalvi". This architect also built the Church of the Santo Sepolcro housed in central Pisa. Moreover, the inside of the structure boasts perfect acoustics enabling a visitor to experience sound that travels around the dome for several seconds. Applause too fosters a splendid echo effect demonstrated often by the staff of the institution.
Photographers have the opportunity for great views and shots from the upper balcony of the space with vistas of the the Leaning Tower, the Duomo Cathedral and the rest of the Piazza dei Miracoli. Legend maintains that the private citizens of Pisa founded the construction of the structures beginning in the early 12th century with each family to pay one denaro for the building. In addition, most visitors are surprised to learn that baptistry like the cathedral and the tower also leans slightly 0.6 degrees towards the cathedral. This and other surprising curiosities await visitors of the Baptistry of St John.