Avalon State Park in Florida is a wonderful destination for those wanting to enjoy an undeveloped beach, an increasingly rare find in Florida. Avalon State Park is located on Florida's Treasure Coast on North Hutchinson Island, just 4 miles north of Fort Pierce Inlet State Park  and the Fort Pierce downtown area. Visitors will discover over a mile of sandy beach along crystal clear water offering great activities, relaxation, and a glimpse of native wildlife.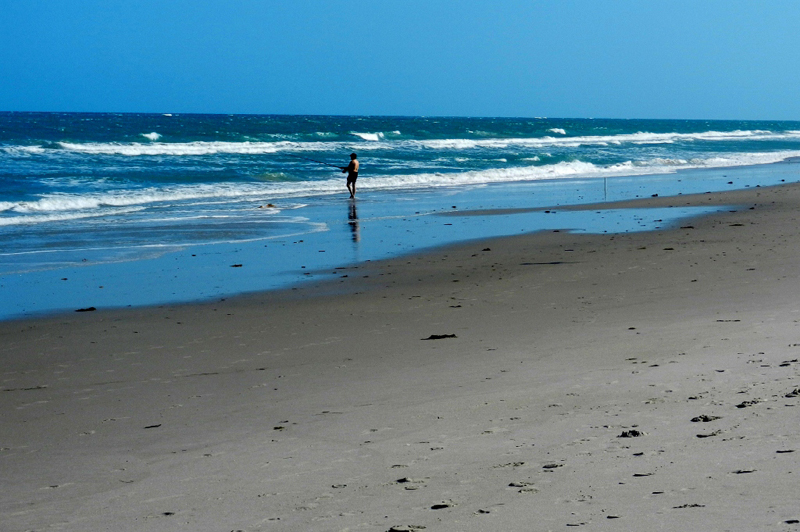 There are several ways to enjoy this area. Avalon State Park's beach is ideal for sunbathing under the Florida sun. Swimmers will love the firm sandy floor and beautiful surroundings, while snorkeling is an extra special treat. The water is as clear as in the Bahamas, and it is home to a wonderful tropical world of sea life. Kayaking and canoeing is a very popular activity, as one can start off from the beach. Simply carry your craft out 30 to 40 feet, and enjoy a relaxing cruise atop the water.
All visitors enjoying water activities are asked to be careful around steel and concrete obstacles found under water. Left by the United States Navy's training during World War II; it is an example of the beaches rich history.
Avalon State Park is one of Florida's best places for fishing from the shore. Fish can actually be seen migrating past during certain seasons of the year. Catch one of the several native species such as Snook, Bluefish, Red or Black Drums, Permit, Pompano, or Whiting.
Many people come to experience the native Florida wildlife found in Avalon State Park. This area is the ideal habitat for several species. Sea turtles are the most popular animal found along the water's edge. They can be found nesting along the beaches during the spring, including the endangered loggerhead, leatherback, and Atlantic Green. Although they are interesting and fun to see, do not disturb them. That way they will survive for future generations to observe.
One of the best things about this beach is all the features to make your visit convenient from start to finish. Located near the parking lot are four pavilions for picnicking. Along with the sheltered tables, grills are also provided. After a day of exploring the entire beach, there are two showers found near the restrooms where one can clean up before heading home. Facilities are all ADA accessible. A beach wheelchair is available for use at no charge.