The Australian Capital Territory, entirely surrounded by New South Wales in the far southeast of the country, is, by Australian standards, of tiny extent, but is of prime importance. At its heart is Canberra, the capital of Commonwealth of Australia and a thriving, vital city. Despite its small size, the territory also encompasses a notable diversity of natural landscapes, including significant highlands.
In Canberra, you can enjoy fine views of the city's signal peaks—Black Mountain, Mount Ainslie, and Red Hill—as well as its ornate architecture, not least the impressive government buildings. You'll also have plenty of entertainment to choose from, including a rich mosaic of museums and art galleries as well as fine concert houses and restaurants.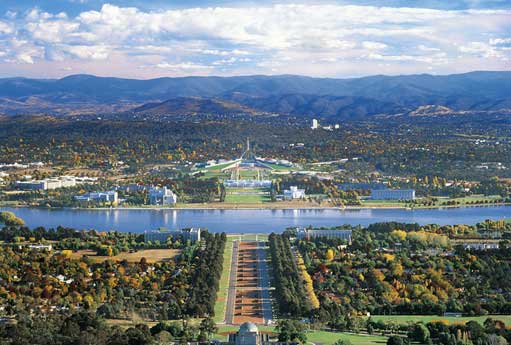 Close to half of the Australian Capital Territory's extent—about 410 square miles—is devoted to the diverse and stirring scenery of Namadgi National Park. The park, established in 1984, preserves a portion of the northern terminus of the Australian Alps, the highest section of Australia's most substantial mountain chain, the Great Dividing Range, which runs from northern Queensland southward to the Grampians in Victoria. Here you can wander groves of hardy Snow Gum or skirt granite domes looming from the woodlands—the high country is snow-covered in winter—as well as appreciate the cultural legacy of local Aboriginal people via striking rock art. One of Australia's great treks, the Australian Alps Walking Track, traces the spine of the mountains between Namadgi and Baw Baw National Park far southwestward.
Wildlife enthusiasts will have many creatures to keep their eyes peeled for in their rambles about the territory. The diversity of habitats encompassed by the Australian Capital Territory—from low grasslands to alpine heights—translates to a corresponding variety of animal life, beset—as everywhere in Australia—by exotic species introduced by human beings. In terms of birdlife, you may see the striking Gang-gang Cockatoo, the male of which sports flashy red head feathers; this parrot is the territory's bird emblem. Scan the skies for a thermal-cruising Wedge-tailed Eagle, Australia's largest and most formidable raptor. Overhanging vegetation of creeks and ponds may conceal the Australian Water Dragon, a spiny, heavy-headed lizard. You have a good chance of seeing the Eastern Gray Kangaroo, one of the continent's largest marsupials, as well as a host of smaller mammals, from Swamp Wallabies to gliders; the truly lucky may spot the tracks of the Tiger Quoll—or even a glimpse of this elusive and rare marsupial predator, at home in the trees or on the ground.