Auckland, New Zealand is a Polynesian paradise with many natural assets including being only one of the few world's cities that has harbors on two major bodies of water. In Auckland's case that is the Pacific Ocean and the Tasman Sea. This dream tourist destination is nicknamed "City of Sails" because of the gulf, sea, beaches, islands, and water attractions. Being New Zealand's largest city, it boasts of culture, great shopping, excellent restaurants, and cruises around the picturesque islands. Auckland was named number ten of the 2010′s World's Most Livable Cities named by "The Economist".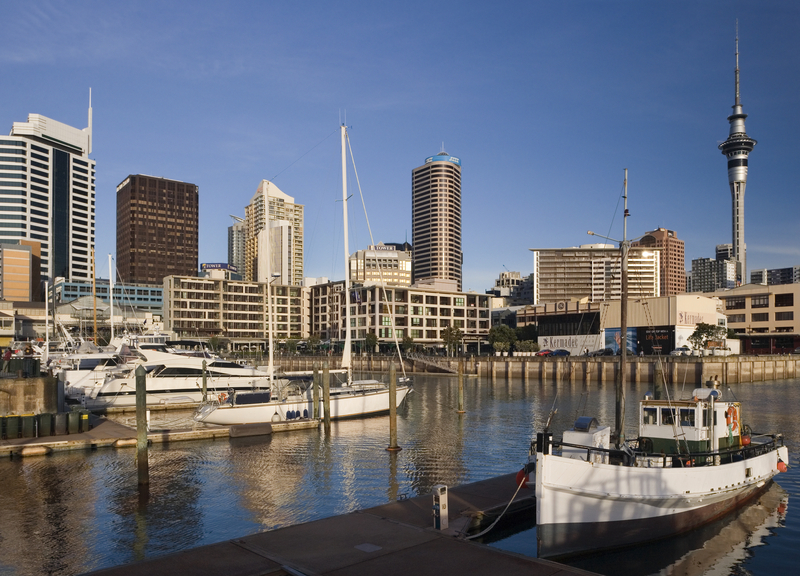 The famous heritage AUCKLAND CIVIC THEATRE opened in December of 1929 and had a major renovation before reopening in December of 1999 in honor of its 70th anniversary. It can seat up to 2,378 people in this largest surviving atmospheric theater in Australasia and one of only seven in the world. Atmospheric means it creates the feeling of an outdoor auditorium with an open sky and twinkling night stars. The foyer has seated Buddhas, and the main auditorium imitates a Moorish garden.
AOTEA SQUARE is the hub of downtown Auckland. It is a large paved area used for public events including art and music festivals, rock concerts, fairs, and rallies. On Fridays and Saturdays there is an arts and crafts market. You will find art works and statues including a bronze figure of a Maori warrior, a bronze fountain, an expressionist version of a Maori entrance gate, and other unique pieces.
AUCKLAND'S SKY TOWER is New Zealand's tallest man-made structure. There are three viewing platforms reached by glass-fronted lifts. If you are very brave, there is a SkyWalk and a SkyJump. You can dine at The Observatory Restaurant or at Orbit, which is a restaurant that revolves 360 degrees. The views are breathtaking.
ANTARCTIC ENCOUNTER AND UNDERWATER WORLD is a wonderland of ice, snow, and underwater encounters. You can see penguins and other marine creatures, swim with stingrays, or swim with sharks!! This is quite an unusual aquarium.
The AUCKLAND ZOO is one of the world's progressive zoos, has the largest animal collection in New Zealand, and has won national and international environmental awards. There are over 750 animals which are featured in events and encounters.
WALHEKE ISLAND, "the Island of Wine", is the Hauraki Gulf's second largest island and is known for its forests, farmland, white sand beaches, hidden coves, grape vineyards, and olive groves. Popular pastimes are sea kayaking or sailing, windsurfing, mountain biking, hiking, and winery tours. Bikes and mountain bikes are readily available for rent. This island is only 35 minutes from downtown Auckland by ferry.