Apricale, Italy is commonly known as "The Place in the Sun" because its name means "visible to the sun". This is especially dominant when sunset illuminates the colored houses. This small hilltop village in Western Liguria, Northern Italy, is close to the Italian Riviera in the foothills of the Alps Maritime on the border of Italy and France. It is 1,000 feet above sea level as it clings to the hillside. There are only a reported 570 to 700 permanent residents.
This town is an example of well-preserved medieval architecture which goes back to approximately 1200 A.D., so you feel like you are taking a walk back into history when you stroll the original narrow streets that are cut off from vehicle traffic. Because the village has banned cars due to the alleys and walkways being inaccessible, Apricale is also the Village of Cats where the cats have taken over.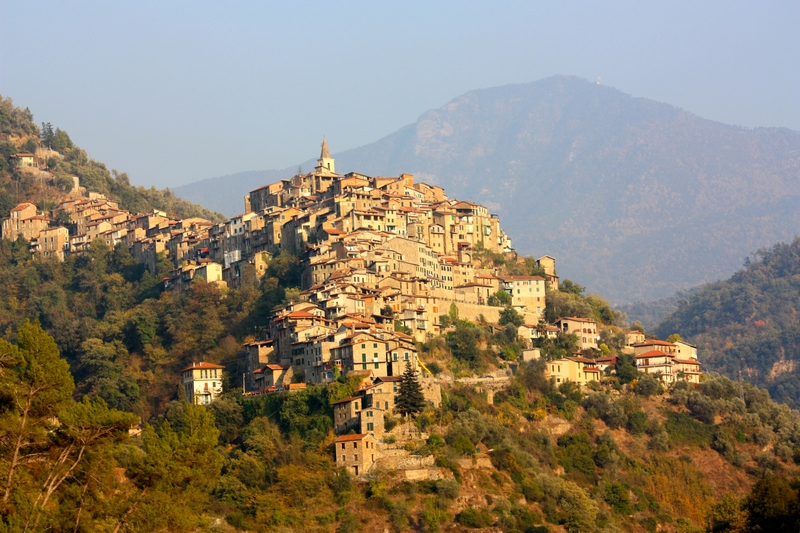 Famous painters from all over the world come to Apricale to paint the spectacular landscape, and many artists have established showrooms and studios in this well-known arts and crafts center. There are many paintings and murals that were painted back in the 1960s and 1970s. The Renaissance-style Town Square (Piazza) is the heart of Apricale and is a natural amphitheater where festivals, classical and jazz festivals, concerts and other staging events are held.
The Apricale Historical Center has museums, beautiful botanical gardens, a public fountain, a lovely town hall, a Parish Church that dates back to the Middle Ages, the remains of Doria Castle, and the Castle of the Lizard which dates back to 1092 when it was owned by counts.
As small as this hamlet is, there are many accommodations that range from luxury to budget prices. These include homes, hotels, cottages, apartments, and bed and breakfast inns.
Restaurants serve local delights such as fish and meat dishes, pizza, pasta, rabbit stew, and desserts.
Apricale is also a shopper's paradise where you can purchase local wines, cheeses, breads, ham, sausages, olive oil, fresh figs and peaches, chestnuts, wild boar, and sun dried items.
Apricale is a treasure that is often undiscovered and yet offers so much to view and enjoy.