Amalfi,Italy is a world class tourist destination famed for its characteristic white houses perched on the steep hills of Sorrentine Peninsula. The cultural landscape of Amalfi Coast has been influential in designating the city a UNESCO world heritage site. Such is the remoteness that there is only one road connecting the entire coast to the mainland.
Despite the isolation, the town was a major trading hub during 10th and 11th centuries. Merchants from the Holy Land and Middle East frequented its shores and brought a rich array of spices and grains. It was not until the 13th century when Venice took over as the major Italian port that Amalfi was relegated as a coastal town of less importance. Nevertheless, the dramatic cliffs of Monte Ceretto continued to lure scholars including Richard Wagner and Henrik Ibsen. Later, the charm of the famous Limoncello liquor and cultivation of 'sfusato amalfitano' lemon proved charismatic for British aristocracy making Amalfi a celebrity hotspot in 1930s. To this day, the charisma continues to lure hordes of international visitors to this magical place.
The cathedral of Sant'Andrea dominates the city skyline, which is engulfed between the V shaped valleys. The large cobblestone staircase leads to this magnificent 11th century building where the nave and two aisles are divided by 20 baroque style columns. The cathedral also marks the city centre and hosts important cultural events in the front square. In 12th century, Saint Andrew's relics were brought to the cathedral for safeguarding purposes. The crypt inside the cathedral tomb still holds the ancient artifact. Another classical attraction is Cloister of Paradise, which is the finest example of Arab influence in Southern Europe. The great white columns and a grand courtyard are reminiscent of open air museum depicting sarcophagi and various notable paintings.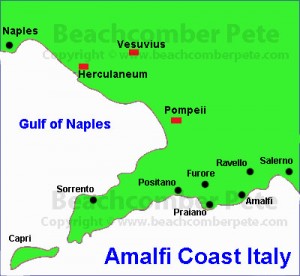 There are lots of great hotels, restaurants and shops catering to the demands of travelers. Almost all lodgings are boutique establishments known for personalized service. Most tourists are willing to pay extra cash for an opportunity to book a cliff side rooms with a private balcony. The view from these terraces has been captured by almost all the leading travel magazines of the world. The sheer competition among these hotels makes sure that there is a place for every budget. Low priced hotels are mostly located high above the hills. Still, services offered by even low profile lodgings are comparable to the best in Italy.
As a tradition, each hotel restaurant tries to distinguish itself from its neighbor. This remarkable gourmet custom enables visitors to try a variety of dish without venturing far from their hotels. Some of the famous bars in the area include Pasticceria Pansa, Grand Caffe and Bar Flavio Gioia. During summer, the beach is very busy due to local holidays. Therefore, most visitors prefer a boat excursion to visit the scenic villages of the area. Likewise, motor yacht charter and cruise are also popular during high season.