Travel to Italy is popular for shopping, culture, history, and art. Italian cities are known for Roman history, clothing designers in Milan, wine country near Naples, and the famous city of Pompeii; however, in Southern Italy lies a city that is newly discovered to travelers: The city of Alberobello. Alberobello, Italy, situated near the Mediterranean Sea on the heel of the boot in Puglia, is a picturesque city enjoying a pleasant climate and famous for its quaint trulli housing.
The main tourist attraction in Alberobello is looking at trulli lining the city streets. The city has trulli districts such as the Rione Monti district and Aia Piccola district each with distinct qualities. What is a trullo you ask? A trullo is a unique cottage home built in ancient times and still constructed and occupied today. The trullo has a distinctive conical shape similar to a prehistoric hut; however, the dwellings are limestone constructed. The structure has a round, open design with a rooftop resembling a pyramid. The entire trullo is built with limestone rock and white-washed with limestone paint covering the structure where the rooftop is the exception and built with only bare limestone slabs. Many trulli rooftops have white tips and hand-painted primitive, Christian or magic symbols on the rooftops, which followed the popular religion of the time and believed to communicate well wishes and discourage misfortune.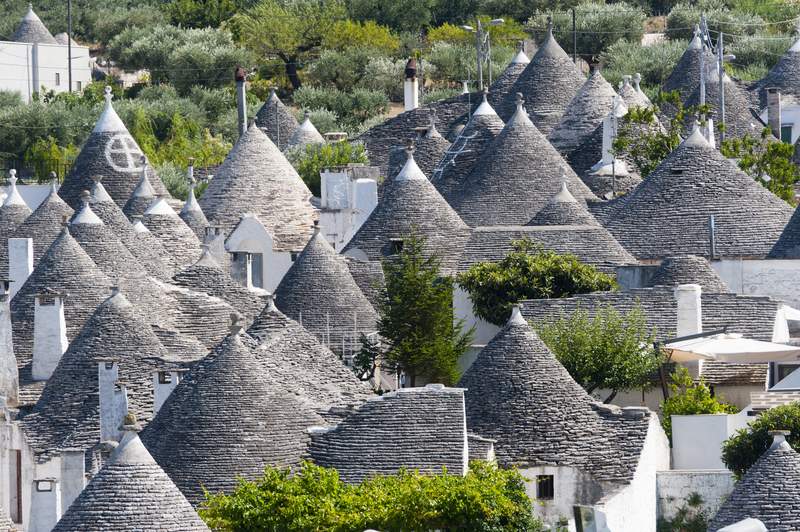 Visiting Alberobello is a unique experience with its olive trees, hilly terrain and fairytale architecture. Walking along the winding, hilly streets to look at these quaint cottages is an awesome experience; however, the best way to experience a trullo, while visiting the city, is to stay in a trullo. Trulli have single-story living spaces with an open layout, and magnificent arches that are artistic in their own right separate each room. The interior design has washed walls, wood doors and wood trim as well as rock trim on the room-dividing arches. These charming cottages are as beautiful inside and they are out. Visitors staying in a trullo have a kitchen and dining area as well as showers and radiators to keep warm on cool days and nights.
Alberobello has a town museum, Museo del Territorio, which is a reconstruction of a trulli district in the historic period style. As expected in an Italian city, there are numerous restaurants and pizzerias, outdoor dining sites, and fresh fruit and vegetable markets. The colors that make up the cityscape are eye candy with deep green landscapes, white-washed cottages trimmed with flower gardens of red and purple, a touch of black iron décor, and wood-trimmed windows and doors. Alberobello is the capital of trulli in Southern Italy, and visiting the city is truly a vacation to remember.