The Mexican port town of Acapulco rose from Aztec ruins to become the Hollywood and honeymoon hotspot of the 1950s, with such notable visitors as Elvis Presley, Frank Sinatra, Judy Garland, and John F. Kennedy. In addition to spas, upscale hotels, and swanky nightclubs, Acapulco has an array of museums, ancient forts, and archaeological sites. It also serves as a major luxury cruise liner destination.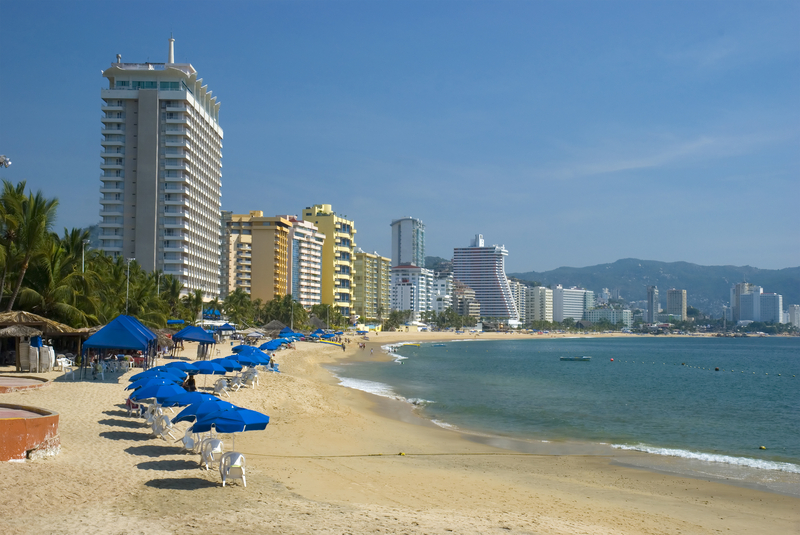 Acapulco's history dates back to the 1500s, when the search for a commercial trade route to Asia brought Spanish explorers to Acapulco Bay. Naturally protected by deep water, it was a prime spot for a port and shipbuilding operations. Annual voyages were made from Acapulco to the Philippines.
Fuerte San Diego is a 17th century fort built to defend the galleons that carried merchandise from Asia. It underwent reconstruction in 1778 and now serves as the Historic Museum of Acapulco, with exhibits on the history of the building and early trade with Asia.
A perfect semi-circular location on the Pacific Ocean and cheap package holidays makes Acapulco a popular beach and watersport destination. Arrange a fishing charter, snorkel, scuba dive, or rent a jet-ski. Full of golden sand and crystal blue water, Acapulco's beaches have something for everyone. Caletilla Beach delivers very calm water for families and children, while Playa Revolcadero has large waves for the surfing set.
Day cruises from Caletilla Beach to Roqueta Island are very popular. This small, relaxing island features snorkeling and scuba diving among sunken ships, sea mountains, and the underwater statue of the Virgin of Guadelupe, put into place in 1958.
For those more into nature than nightclubs, the beach town of Pie de la Cuesta is a quick bus or taxi ride from the bustle of Acapulco. Guesthouses and seafood restaurants set the serene scene, with magnificent sunset views. It borders the Pacific Ocean and Laguna de Coyuca, a freshwater lagoon with palm trees and a bird sanctuary.
A visit to Acapulco is not complete without seeing a performance of the La Quebrada Cliff Divers. Started in 1934, professional divers perform perfectly timed dives off of the 95-foot cliffs into the water below. Dives take place daily.
Well-known and historic hotels rest among the modern luxury resorts. The famous Fairmont Acapulco Princess, built in 1971, is in the shape of a giant Aztec pyramid. Sitting high above the bay, the Las Brisas Acapulco was built in the 1950s and offers prime views. The 1930s Hotel Los Flamingos sits atop a 450-foot cliff overlooking the Pacific. In the 1950s, it was bought by the "Hollywood Gang" of, among others, John Wayne, Erroll Flynn, and Cary Grant.
Acapulco has come into its own as a world-class, luxury destination, while retaining the romance and allure of its historic and star-studded past.