The island of Eleuthera is a long, slender comma floating between the phrases Atlantic Ocean and Caribbean Sea. At 110 miles long and barely two lanes wide in spots, the Bahamian island chain is a beach lover's paradise, with pink and white sand, quiet coves and coral reefs surrounding shallow seas.

Eleuthera, founded in 1648, was the first permanent settlement in the Bahamas. It is 200 miles south-east of Miami, Florida and 60 miles east of Nassau and Paradise Island, Bahamas.

One of the Out Islands of the Bahamas, Eleuthera has a beach for every brand of aqua addict. Surfer's Beach is a quiet, laid-back beach town with some of the best surfing in the Bahamas. Lighthouse Beach, in Bannerman Town, is secluded and peaceful. French Leave Beach, on the Atlantic, is soft and sandy with calm, gentle waves and casuarina trees full of fronds, just right for an afternoon nap. Winding Bay Beach forms a wide semi-circle in the south of Eleuthera. One end of the beach has a unique water system and mangroves. The other end features rock formations and starfish.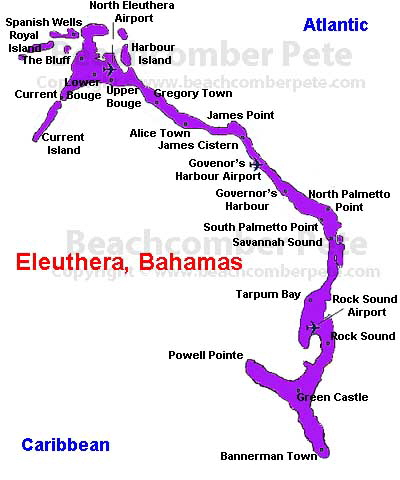 Accessible by boat from the north end of Eleuthera, Harbour Island is sometimes called the "Nantucket of the Caribbean" because of its New England style houses and architecture. It once served as a colonial shipyard and sugar-refinement center. Today, it is popular for day trips. Its famous Pink Sand Beach, also known as Three Mile Beach, has been called "…the most gorgeous beach in the world…" Forbes Magazine. Despite this prominent title, it is never crowded due to the length and width of the coastline. It has been the site of various swimsuit model photo shoots and its hard-packed sand provides a great surface for jogging.

Other sites on Harbour Island include Bay Street, the historic, former government and cultural center of town. There is also an old jail and the ruins of a pirate's fort partially buried in the sand.

For those seeking adventure, Bahamas Out-Island Adventures offers kayaking, snorkeling, diving and fishing trips. There are more natural shipwrecks in the waters around Eleuthera than any other Bahamian Island, which makes for great diving and snorkeling expeditions.



Nature and historical tours are an alternative if you ever tire of the beach. Bird watching is a popular past-time, as the Bahama mockingbird, bananaquit, Zenaida dove, and Greater Antillean bullfinch can all be found flitting around in Eleuthera's warm, tropical air. Preachers Cave is the site of an archaeological discovery of what is thought to be the remains of a Lucayan Indian dating to the 1600s.

Pink sand, pineapple plantations and plenty of tropical blue water make Eleuthera the perfect island paradise for shell hunters, seclusion seekers and explorers of all types.