Santa Rosa National Park in Costa Rica is recognized as a World Heritage location. It is the site of the Battle of Santa Rosa in 1856, when the troops of filibusters who wanted to conquer Costa Rica were forced to retreat because the Tico troops attacked. At the time, Santa Rosa was a farm in Guanacaste Province. La Casona, a hacienda building, serves as the monument for the battles that occurred on the site. Because the area has been preserved as a park, wildlife and ecosystems have been saved from extinction.
The Santa Rosa National Park has 50,000 hectares of vanities of forests, grassland and land along the coast. It is a refuge for species of birds, thousands of insects including thousands of kinds of butterflies, reptiles and amphibians, and mammals. Some examples of these are black hawks, and trogons, 50 different kinds of bats, capuchin and howler monkeys, and crocodiles. The species threatened by extinction are the leatherback and green turtles.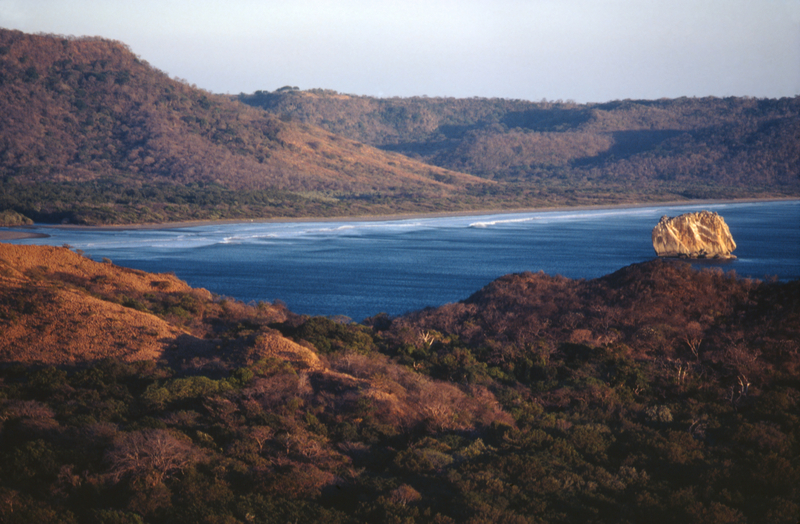 The park has a variety of ecosystems including mangrove and mesquite-nacascol bogs, slopes with oaks and evergreen trees, forests near the shore and grasslands. While Guanacaste province has droughts during the dry season from December to April, the forest protects the park during the drought.
To reach the Santa Rosa National Park, drive the Inter American Highway from San Jose to Libera. Keep on the InterAmerican Highway on past Liberia to Potrerillos- a distance of 20 miles. The park entrance is on the left side of the road, six miles beyond Potrerillos. The total drive between San Jose and the park is over 250 km.
The park is ideal for those who enjoy outdoors, historical spots, camping and surfing. The beaches of Nancite and Narango are popular with campers and surfers. This park has some of the best campsites in the national park system of Costa Rica. It is recommended that campers bring water.
The entrance to the park is 35 km north of Liberia and is distinctively marked.
After paying at the entrance, drive six km to the Administrative Center which has a restaurant. Visitors can hire a guide for a $10 to $15 fee. Leading off from the center are routes into the forest or to the beaches.