Half way down the west coast of the Nicoya Peninsula is a small village called Samara, located on a long sweeping half moon shape bay lined with palm trees. Samara has been a favorite with the local Costa Ricans and for years has been a traditional holiday or weekend getaway for the Ticos. Up until recently not to popular with American and Canadian tourist, the village usually has been a favorite for foreign tourist from Europe.
Samara's small town or village  is located along 2 main roads , one running along the beach the other coming down from the hills surrounding Samara and ending right on the beach. Most of the restaurants and small hotels are still run by local Costa Ricans, giving the village its authentic feel.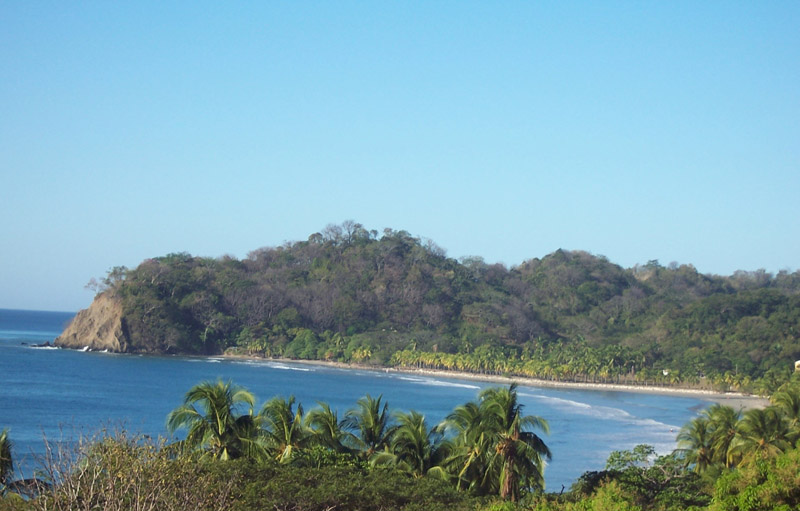 The waters off of Samara beach are shallow with small waves due to a protective coral reef, making swimming a favorite for families and adults as well. The protective reef is a favorite among snorkelers and scuba divers, adjacent to the reef and almost in the middle of the bay is Chora Island. A favorite pastime is taking one of the colorful kayaks out to Chora Island and to the coral Reef. Water sports abound in Samara, with kayaking, windsurfing, Kite surfing or surfing for beginners on the small waves. For larger waves one only needs to travel 5 miles south to Playa Camaronal. Horseback riding is also a favorite in Samara, whether just along the beach with a short hop over the bluff to the south a then on to the beach at Carrillo or inland to the waterfalls at Tobacco with its 3 falls and swimming holes.
Samara with its very laid back and tranquil atmosphere has made this a destination spot for those just wanting to escape. One can find a wide range of moderately priced rooms, from simple cabinas to small hotels or bed and breakfast hotels on the beach or in the hills surrounding Samara.
The weather in Samara follows the typical dry season from November to May and the rainy season from June to October. Yet this part of the Nicoya Peninsula does not see the amount of rainfall as the lower Pacific coast of Costa Rica.
As Samara is located farther up the Nicoya Peninsula there are several ways to get to this seaside village. A 4 and ½ hour drive from San Jose or 2 hours by car from Liberia International Airport, buses are also available to San Jose taking around 5 hours. Flying time to Samara from San Jose is 40 minutes with one of the small commuter flights.