Situated on the Pacific side of Costa Rica's Osa Peninsula and nestled in the Golfo Dulce, Puerto Jimenez is this area's main town and is a truly unique place to visit. The peninsula is one of the most ecologically diverse places on the planet and is home to more than half of all the species present in Costa Rica.
These features make it a prime spot for ecotourism. That is, the practice of bringing communities, sustainable travel and conservation together. In Puerto Jimenez you'll find several lodgings which cater to the philosophy of ecotourism. A few are La Leona Eco Lodge, Selva Bananito Lodge and Preserve and the Lake Coter Eco-Lodge. Experiencing the local culture as well as the area's natural wonders is part of ecotourism.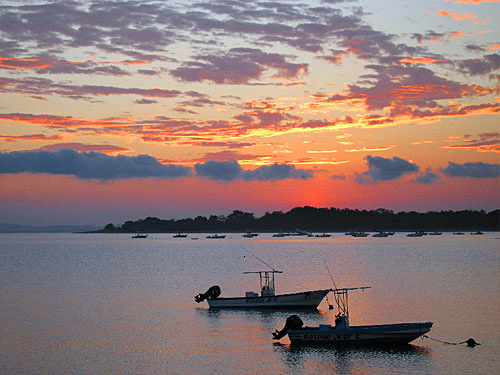 Often times, visitors travel to this out of the way paradise as a stopping point before their trek through Corcovado National Park which is part of the Osa Conservation area and was established in the mid 1970s. Puerto Jimenez is seen as a last outpost separating it from points further south where supplies and access to electronic devices may not be as easily accessible.
Those planning to explore the dense jungle are encouraged to hire an experienced guide to lead them safely on their adventure. While hiking through the forests, visitors will be treated to sightings of a variety of animals from howler monkeys to rare Scarlet Macaws.
For those who aren't planning on exploring the tropical rain forests of the park, there are activities such as kayaking, horseback riding and surfing. They're all popular and are easily found close to the hotels and to the park. Sport fishing is another draw to the area with record fish being caught on a regular basis.
The Golfo Dulce is known for its lush green mountains that rise almost vertically out of the crystal-clear waters. Migrating whales are often spotted in the water as well as three species of dolphin—the bottlenose, the spinner and the black spotted.
In its previous life, Puerto Jimenez served as a place for gold mining and logging. Both are still performed in the area but on a much smaller scale. Accounts from the 1980s paint Puerto Jimenez as a wild frontier town where miners paid for their goods with gold nuggets.
Nightlife in little Puerto Jimenez isn't lacking, a few of the most popular places are Juanita's Mexican Bar & Grille, Soda Carolina and the place to dance is Delfines Discoteque. Be prepared for gorgeous weather while visiting Puerto Jimenez as Costa Rica has a tropical climate.