Verdant nature comes to mind when one thinks of Costa Rica, and the area of Playa Herradura on the Central Pacific Coast is beautiful and has an abundance of natural attractions, as well as a tranquil beach for swimming and snorkeling. Playa Herradura is located about 6 km north of Jaco. The bay, shaped like a horseshoe, gave rise to the name, which means horseshoe in Spanish. Sport fishing, golf, and visits to nearby Carara National Park are just a few of the attractions in Playa Herradura.
Playa Herradura was featured in the film as the set for the movie, 1492 Conquest of Paradise, and it became more popular after that time. Once a sleeping quiet beach town, it is now visited by more tourists but still has a tranquil beach. With black sand and a shore lined with palms, it appears like paradise.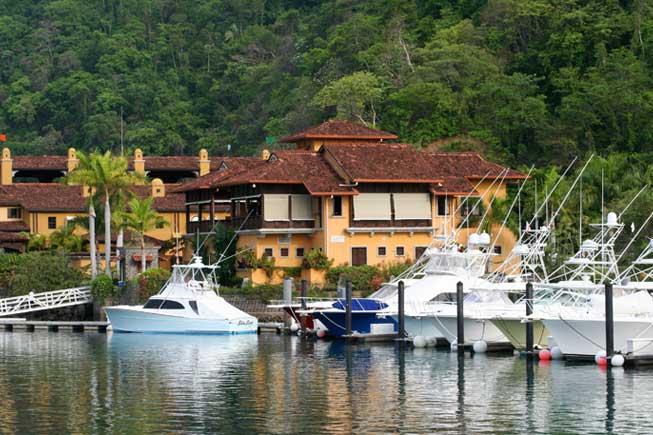 With Jaco as your destination, the nearby rainforest provides an abundance of tours and excursions, with awesome views and adventure. Zip line can move you through the diverse and spectacular canopy of the forest and an aerial tram is also part of a tour designed to enable visitors to more slowly move through the tropical forest and lush landscape, high above the forest floor. There is also a tour for families and children, which explains and teaches about bio-diversity and the sites within the rainforest. Given the task of designing a tropical shirt or painting a fossil, this tour will inspire curiosity about nature in children. Bird species abound, and a visit to a heliconia garden and snake exhibit is on one of the tours. A 40 foot waterfall and views of the Pacific are all part of the aerial tram experience.
The Carara Biological Reserve, north of Jaco, offers horseback riding and hiking, as well as an abundance of scarlet macaws. The birds are most active at sunrise and sunset, which makes that the best time for hiking the hour-long trail at the reserve.
Golf is a favorite sport of some vacationers. The 18 hole golf course at Las Suenos Resort is La Iguana, and boasts three-toed sloths, monkeys, and toucans as inhabitants who watch the players. Guides here give tours about the surrounding nature, as they go through the course. Alongside a rainforest, with spectacular ocean views, this golf course is challenging and a golf experience to remember.
Surfing is a popular sport at some of the beach area around Playa Herradura. Jaco is a popular surfing spot, and Playa Herradura is rapidly becoming popular with surfers as well.
A visit to Playa Herradura is an amazing holiday in nature, with beaches, rainforests, and wildlife, as well as perhaps, an occasional game of golf.