Nestled along the Central Pacific Coast of Costa Rica in Puntarenas Province is the lovely Pacific haven of Playa Hermosa. Unlike many of its neighbors, Playa Hermosa is not overcrowded with tourists or the subsequent commercialism found in most resort towns. It is a lovely escape for those seeking to enjoy some quiet relaxation although there are several good restaurants to choose from with live entertainment at some of the hotels.
Though Costa Rica was first visited by Christopher Columbus on his final voyage to the New World in September 1502, evidence of Costa Rican civilization has been found dating as far back as 8000 BC. The name Costa Rica comes from the golden jewelry worn by the indigenous people of the region and means Rich Coast. It was given to this beautiful land by Gil Gonzalez Davila.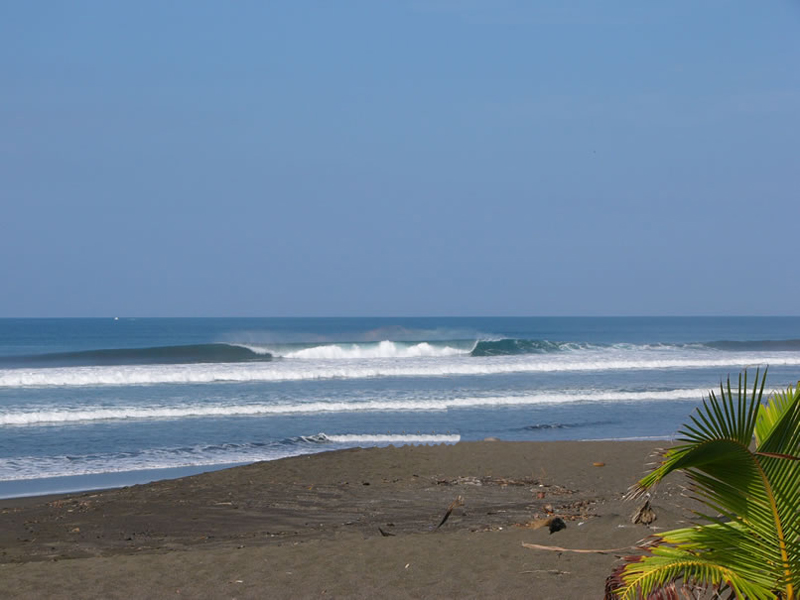 Although not highly commercial, there is plenty to see and do in Playa Hermosa! Surfing is a favorite pastime here and the coast along Playa Hermosa is famous for its amazing and consistent surf breaks. Not for the beginner to be sure due to the strong currents, but for the experienced surfer the outstanding waves offer world class surfing. For the beginner, a short trip to nearby Jaco is ideally suited for all surfing abilities. Playa Hermosa is also the home of the annual International Quicksilver Surf Championships each August that brings the best surfers from around the world to compete for the title.
The adventurous traveler will surely enjoy ziplining through the forest canopy, a fun and exciting way to spend a morning or afternoon. Imagine gliding along high above the forest floor, sailing through air along the tree tops of the lush Costa Rican forest.
For those who enjoy the challenge of ocean fishing, the waters off Playa Hermosa offer world class sport fishing. This particular region is home to some of the largest fish found in the Pacific Ocean including bill fish, marlin, tuna, sailfish and more, attracting fisherman from all over. Outstanding fresh water fishing is also widely enjoyed in Costa Rica.
The Playa Hermosa Wildlife Refuge offers a number of activities available for visitors to enjoy. Wildlife and bird watching are favorites due to the abundant and varied species found within its mangrove swamp and lush forest lands. Hiking trails wind through the forest presenting great opportunities for a photo safari. Scarlet macaws, herons and many colorful bird species inhabit the refuge along with snakes, crocodiles, raccoons and many other species.
The refuge is also home to a protected nesting beach of the Olive Ridley sea turtle, the smallest marine turtle in the world, as well as several different habitats that include mangrove estuaries, ocean, beach and secondary forest areas.