Playa Guiones is one of the three beaches in Nosara and is one of the best places in all of Costa Rica to surf. It is five miles of immaculate white sand and is a favorite spot for many to watch the sunset. Nosara began as a development of a US landowner called the Nosara Project. It is currently managed by the Nosara Civic Association who tries to balance concerns of protecting the environment with development. Nosara is located in the far northwest region of Costa Rica by the Pacific Ocean.
If you want to learn how to surf, take lessons to improve your skills, or just surf away from the crowds, then Playa Guiones is for you. The waves are almost always shoulder high or more so this has become a choice destination for serious surfers. During low tide the waves are quicker and great for short boarders.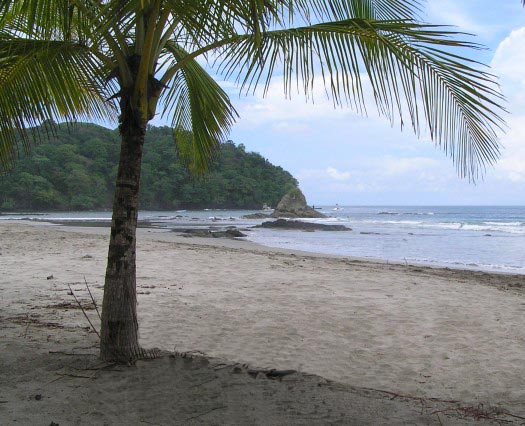 There are several businesses in Playa Guiones that rent boards and offer lessons. Whether you want someone to just show you the basics or you want to work on your technique with a certified surf guru, you can find it here. It's the only location in Costa Rica where you can have video coaching from experienced and certified coaches. The beach is so perfect for surfing that the National Surf Tournament has been held there for the last seven years and is scheduled again for May of 2012.
Another water sport that many enjoy is snorkeling. In Playa Guiones you can rent equipment for snorkeling from some of the surf shops there.
Fishing is great in Playa Guiones and because of an underwater ledge close to the shore you don't have to boat very far to find deep water fish. You can fish from the shore or rent a boat in either Playa Pelada or Playa Garza. Types of fish here include mahi-mahi, marlin, rooster fish, sailfish, sea bass, snapper, and yellow fin tuna.
Playa Guinones is also known for its retreats and yoga classes. Offerings include private and public classes and even sessions where you can learn to be a yogi.
Other activities include horseback riding on the beach or in the jungle, boating, or kayaking. Energetic travelers might want to try the zip line that is said to be the longest anywhere. Another fun activity is renting an ATV to see all the sights that Playa Guinones and Nosara have to offer.