Playa Avellana is located in the Guanacaste Province of Costa Rica, and is renowned for its spectacular scenery, year-round sunshine and radiant beaches. It also boasts fascinating nature preserves such as the Ostional Wildlife Refuge and the Marino Las Baulas National Park, both of which were created to provide a place for endangered sea turtles, although they are now home to a wide variety of other wildlife species, as well.
Historically, Costa Rica has enjoyed rather consistent political stability and more periods of peace than many other Latin American countries. Before the rapid increase in Playa Avellana's popularity as a tourist destination, coffee production was the area's principal source of wealth, and is still a piece of Costa Rica's economic puzzle.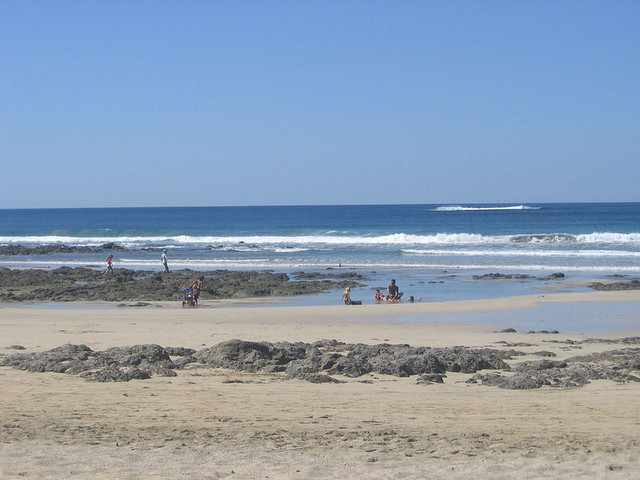 Referred to by local residents as "little Hawaii," Playa Avellana is an outstanding vacation destination for those who love nature and the great outdoors. The secluded white sandy beaches located in the resort town are the epitome of peace and tranquility. Peppered with several beachfront bars, it is also a great location to relax with a cocktail and take in the beautiful sights and sounds of the magnificent shoreline. Live entertainment is often featured at the largest of the beach bars, but perhaps the most notable entertainment is a visit from Lola, the enormous 800 pound pig that wanders through the beach's shallow waters, and sometimes to the outdoor bar's, to greet tourists with a friendly snort.
Although not ideal for swimming due to strong waves and currents, Playa Avellana is an exceptionally good choice for surfing fans. Here, waves have been known to reach as high as eighteen feet, offering optimum conditions for experienced surfers. Those who are traveling with surf fans, but do not wish to engage in the sport themselves, can opt for a restful horseback ride along the shore as this is also a popular activity in Costa Rica.
Visitors who enjoy golfing while on vacation will be pleased to discover that there are several state-of-the-art golf courses in the area, one of which was designed by Mike Young. Accommodations at Playa Avellana are usually priced quite reasonably, although similar to most vacation destinations they are a bit higher during peak tourist season, which for Costa Rica is the months of May, June and July. Regardless of whether one is looking for rest and relaxation, adventure, or a surfing vacation, he or she is certain to find it in Playa Avellana.