Piedras Blanca National Park, previously known as Las Esquinas, is located on the Southern Pacific coast of Costa Rica, nestled along the Gulf of Dulce. This beautiful national park spans 34,642 acres in the Puntarenas Province. The park ranges in altitude from sea level up to 3,281 feet and is covered in rainforest.
To the east of Piedras Blanca are the Golfito National Wildlife Preserve and the Golfo Dulce Forest Reserve to the west. The Golfo Dulce Forest Preserve also abuts the Corcovado National Park. These local parks and preserves offer visitors plenty of wildlife and majestic landscape to explore.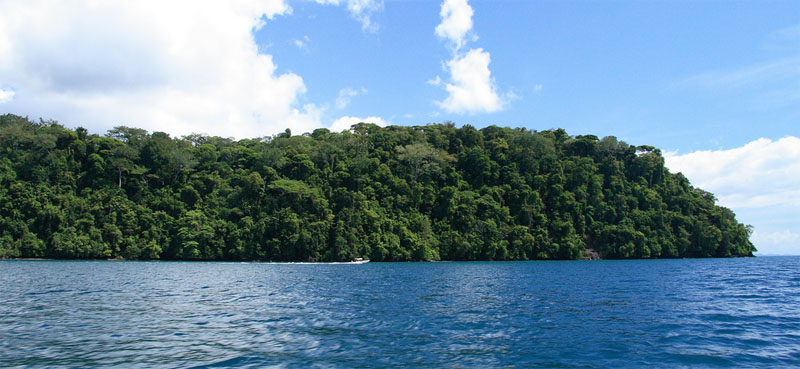 Piedras Blanca is home to all four monkey species of Costa Rica along with many other species of mammals, such as sloths, kinkajous, and agoutis. Hundreds of bird species, including the rare scarlet macaw, live in the area. The Piedras Blanca National Park is also home to cats, including the ocelot, puma, and one of the last jaguar habitats in Costa Rica. Additionally, there are many sea creatures that can be seen from the park, including several types of dolphins and whales.
There are many activities available to explore the area in and around Piedras Blanca. The park itself has no official trails, but there are many paths that make it possible to explore independently. The local hotels also have their own trail heads and local guides are available for tours during the day or night. Activities on or near the water are also available, such as beautiful beaches, kayaking, snorkeling, and whale watching tours.
Aside from the neighboring parks and reserves, there are several nearby cities. Golfito, the closest town, is the southernmost port town in Costa Rica. Across the gulf, opposite the park on the Osa Peninsula is Puerto Jimenez. To the north of the park is Palmar Sur, which is known for being the home of the mystifying granite spheres. Pavones, to the south, is a beautiful beach town with excellent surfing.
The entrance to Piedras Blanca National Park is found in La Gamba. To reach La Gamba, take the Interamerican Highway south from Palmar and turn directly off to La Gamba. It is also possible to take a road north from the town of Golfito. There is a small ten dollar fee for entrance into the park and the park is open daily from 8am to 4pm.