Rated among the world's most beautiful national parks by Forbes Magazine in 2011, Manuel Antonio National Park of Costa Rica hosts over one hundred fifty thousand visitors each year. Established in 1972, this four thousand acre preserve is well known for its beautiful beaches and numerous walking trails. There is a small open air museum of natural history near the entrance. Manuel Antonio is the second most visited national park in Costa Rica.
The three main beaches attract visitors because of their pristine, white sand. Tourists can snorkel in the tidal pools that form near the Manuel Antonio and Espadilla beaches and traverse the "tombolo" or sand bridge that connects the two sandy stretches. The coastline offers visitors the opportunity to see dolphins and migrating whales. Active water enthusiasts will also enjoy other recreational opportunities such as scuba diving, sea kayaking or deep sea fishing.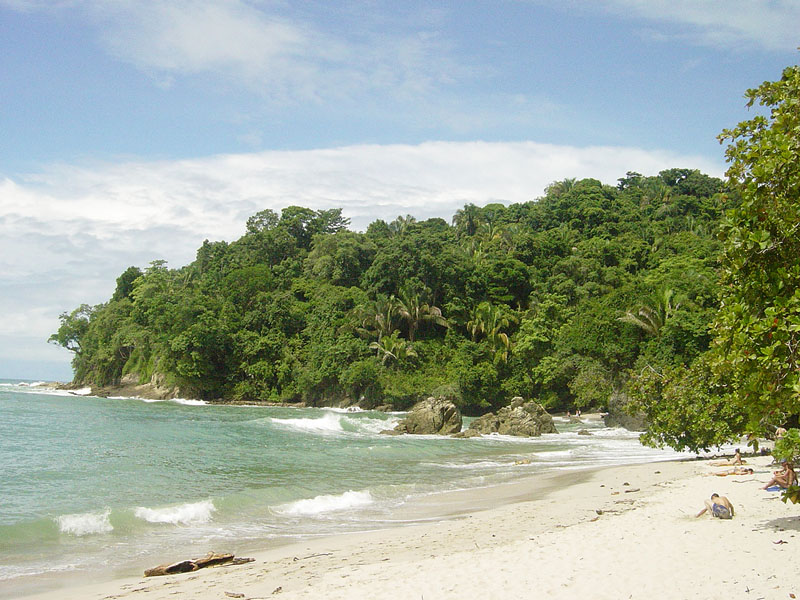 Those eco-tourists looking to explore the rich biodiversity of this Costa Rican treasure will enjoy the one hour hike along the trail from Espadilla to the summit of Punta Catedral. During their mesmerizing trek through the mangrove rain forest, they will have the opportunity to see an unparalleled diversity of wildlife. The park contains over one hundred species of mammals and one hundred fifty types of birds. These include three species of monkey, two types of sloths and four variations of iguana. Patrons will also observe toucans, woodpeckers, parakeets and hawks. The network of trails provides guests with amazing panoramic vistas of the park and the Pacific Ocean.
Reaching the park from the capital of San Jose is easy. You can drive the 3 ½ hours by all terrain vehicle or take one of three large comfortable buses that depart daily from the Coca Cola bus terminal or a local bus from the main terminal that leaves every half hour. A twenty minute flight is also an option through regularly scheduled air service. The nearby town of Quepos and Manuel Antonio have a myriad of dining and hotel accommodations as well as many cultural activities and an exciting night life.
From its pristine beaches and lush green rain forests to its magnificent flora and fauna, Manual Antonio National Park epitomizes everything that tourists love about this Central American country.