La Fortuna is a small rural city in the Northern Lowlands of Costa Rica with a lot to offer. La Fortuna offers peaceful green landscapes, a rainforest, and a panoramic view of an active volcano. Natural hot springs are abundant in La Fortuna and can be enjoyed in several local spas in the area. Because the temperature is in the comfortable 80's, outdoor activities like horse back riding, whitewater rafting, and hiking are very popular in La Fortuna.
Arenal Volcano
One of the most beautiful and intriguing sites in La Fortuna is the Arenal Volcano, an active volcano rising over a mile high. After centuries of inactivity, the volcano had a severe eruption in 1968 which destroyed the nearby town of Tabacon. The Arenal Volcano is the most active volcano out of the six in Costa Rica with steady activity that produces regular smoke plumes, gas, and lava flows. The Arenal Volcano can be explored by guided hiking or horseback tours.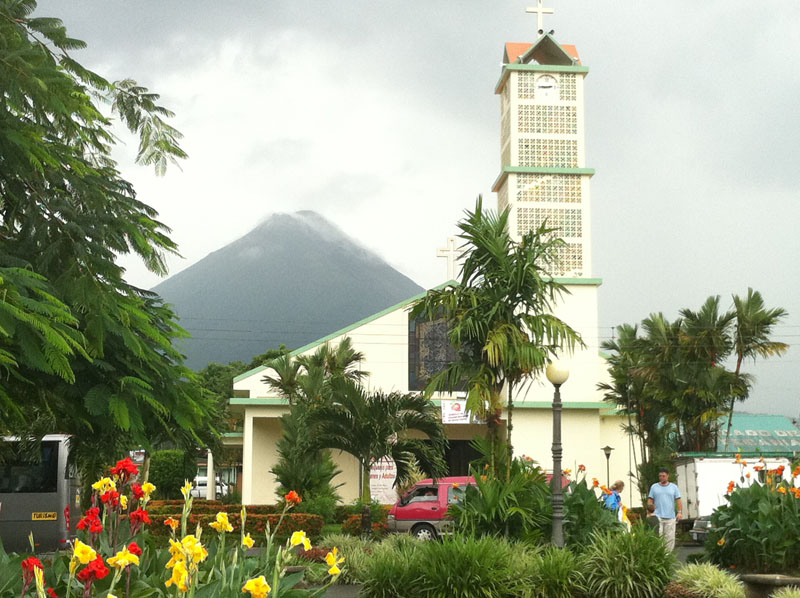 Eco Termales Fortuna
Experience the ultimate in relaxation, privacy, and self-indulgence at the family run Eco Termales Hot Springs, nestled in a lavish rainforest. The Eco Termales offers four different crystal clear natural hot springs pools with water temperatures between 91 and 105 degrees F. Each pool has a unique design including a gentle cascading waterfall. Private walkways connect the pools and lead to the changing rooms and the restaurant, which serves the finest in Costa Rican cuisine. The gardens are meticulously manicured and the beautiful pools are surrounded by natural jungle foliage. Eco Termales Hot Springs accepts only 100 visitors at a time making reservations necessary.
La Fortuna Waterfall
Set out on an adventure on foot or horseback through green pastures and a rainforest to the La Fortuna waterfall. The waterfall rises 200 feet above an emerald green pool surrounded by dense green jungle foliage. Along the way, hikers and visitors can expect to see local tropical wildlife like monkeys and an occasional toucan. The La Fortuna Waterfall is a great place to picnic, enjoy nature, and take amazing photographs.
Cabalgata Don Tobias
Take a once in a lifetime tour of an active volcano on horseback provided by the Don Tobias stables. Ride on horseback through lush green forests, cattle pastures, and stop at a small lagoon to refresh the horses. The tour ascends to the look out point, which is the highest and closest point to the volcano allowed, before turning back toward the Don Tobias stables. The tour takes about three hours to complete.