Jaco, Costa Rica is a town of about 10,000 located on the Central Pacific Coast. A beach town, Jaco stands out for its great fishing, beaches and night life. As more and more tourists are discovering Costa Rica, this area has become more and more popular with visitors.
Jaco is a combination of a modern town with an older Costa Rican culture. It features up-to-date resorts along with family style accommodations at the southern end of town. Most tourists arrive to Jaco at the Juan Santamaria International Airport in San Jose. This airport is located about 80 miles from Jaco. Options to arrive in Jaco include taxi, shuttle bus, local bus or car rental. It is a good idea to reschedule a shuttle bus with your reservations. Many shuttles will run directly to local hotels. Renting a car is also a good idea if you don't mind driving in a foreign country. Most roads are safe and well maintained. This gives you the option of seeing more of the surrounding area.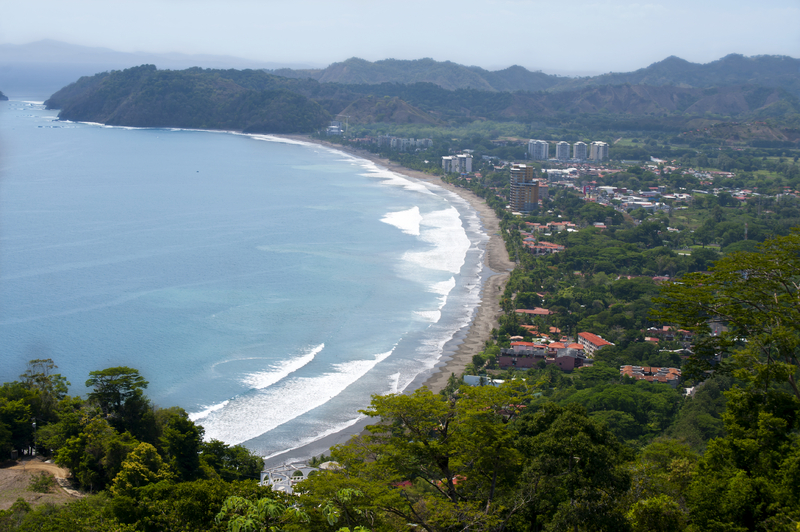 There are a variety of places to stay in Jaco. This include hotels, resorts, privately owned apartments or condominiums and houses converted to inns. It is best to reserve a residence in advance. While a choice of staying depends on your group and economics, some good local choices are Morgans Cove Resort, Club de Mar, and the Bahia Encantada condominiums.
Jaco is famous for its party life. Some great choices are the Monkey Bar, Pancho Villa, Backyard Bar, and the Club Vibe which opens from midnight to dawn. Most other bars close at 2:30 AM. Another choice is the Beatle Bar, which is an adult's only bar. Prostitution is legal in Costa Rica, and the center for this in Jaco is the Beatle Bar. For the sports minded, the Los Amigos Sports Bar and Grill is also open to 2:30 am and features both a bar and dining areas. In addition, many resorts have their own night life bars and areas.
Fishing is another popular attraction in Jaco. There are many tour boats that can be hired to take tourists out for deep sea fishing, or local catches from the rivers. Along the beaches it is easy to rent boogie and surf boards. Most rental stores also provide training classes for those new to the sport.
The beach establishments also rent other items to bring to the beach with you. Beach access is free in most cases. A most important items to bring are beach shoes or swimming shoes. The beaches here feature black sand and this becomes quite warm in the afternoon with bear feet. The temperature in Costa Rica is pretty consistent, with the highs being 85-90 degrees in the afternoon. The non-rainy season here is between December to April.
If you have a car, there are several side trips that are fun to do. Driving north from Jaco, you can visit the city of Herradura and its quiet beach, the Villa Caletas hotel, the Punta Leona Resort and Playa Blanco. Continue on to the bridge over the River Tarcoles, park and watch the crocodiles in their natural habitat. South from Jaco, you can visit the Playa Hermosillo, the Manual Antonio National Park and the Mono Azul sloth rescue project.
In town, Jaco has several shopping malls, shops and stands that feature jewelry, surf clothes, fabric and assorted Costa Rican handicrafts. The El Galeone Mall has several floors and features the popular Costa Rica Coffee Experience and the Guacamole clothing store. Taxis are readily available to travel around the city. Official taxis are red. It might be best to have your hotel or store arrange a taxi to take you back to your accommodations. There are private taxis as well, and not all of these can be trusted to charge the usual fare.