Dominical is a beautiful beachfront town found in Costa Rica. Located just 45 kilometers south of the larger city Quepos, Dominical is one of the most visited cities within the Puntarenas province. There is no denying that the biggest attraction of Dominical is the ocean. Surfers from all over the world come to this beach to surf the legendary waves, and many professional surfers retire here after their careers have officially ended. While the industry was once reliant on African oil palm plantations, today the bulk of the city's revenue is derived from tourism. Even if surfing isn't your idea of a good time, there are plenty of fantastic ways to spend your time in Dominical.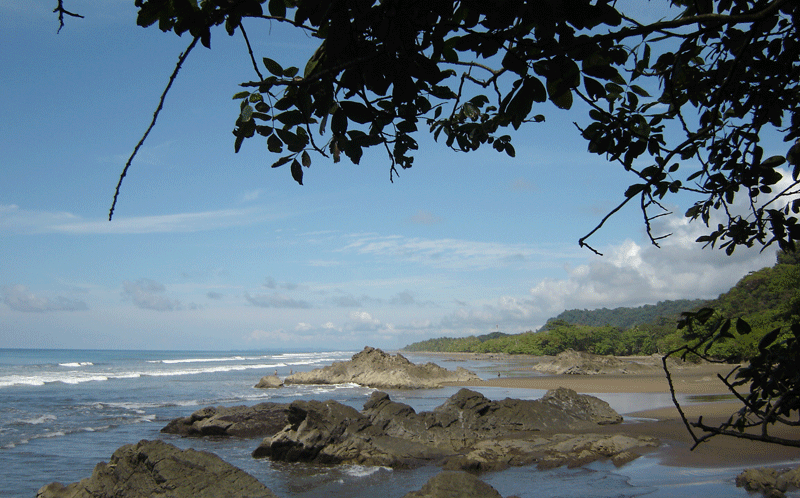 For many tourists, a trip to Dominical is a great reason to improve their surfing skills, or just stand up on a board for the first time. Luckily, there are countless surfing schools and retired professionals who make their living by giving travelers lessons. Nowhere else in the world can a complete novice receive surfing tuition from those who were once world-class competitors. As might be expected in a surfing town, the atmosphere is very laid back and relaxed, with little need for clocks.
There are also plenty on recreational activities not based around a surfboard. Dominical is one of the only places in the world where you can see whales from both the Northern and the Southern hemispheres in one location. For over 9 months of the year, a variety of whales can be spotted by the naked eye from the shoreline. For a closer look, whale watching tours take you five miles offshore to the Marino Ballena National Park, where humpback whales, along with 5 other species, can be seen. Boat trips can last for an afternoon or a whole day, and many include snacks, a lunch, or a chance to snorkel out at sea.
Head away from the coastline and is it apparent that inland Dominical also have much to offer. Several companies have set up adventure tours that give visitors a chance to try new activities like horseback riding, zip-lining, or exploring caves. The incredible mountains offer great hiking paths, and several waterfalls dot the landscape. Dominical is home to rapids up to class 4, and trained guides will lead visitors, guiding their boats over the toughest sections.
There are several accommodation options in Dominical, ranging from inexpensive guest houses on the beach for backpackers on a budget to eco-lodge resorts set atop the mountains. Restaurants dot the shoreline, and many are open until the late hours of the night, transitioning at dark into a casual seaside bar. A combination of Costa Rican specialties and international favorites are found in most restaurants, catering to all types of clientele.