Cobano is the epicenter of activity for the southern Nicoya Peninsula of Costa Rica. Visitors traveling to and from the local Pacific coast beaches will pass through Cobano. Just a few short years ago, villages in the area received their supplies from Puntarenas by boat because the current road network didn't exist. At this time, Cobano was a sleepy cattle town containing roads that were barely passable. That has changed with the advent of the tourist industry that brings visitors to the marvelous beaches of the Nicoya Peninsula. The roads have improved significantly and transportation has transitioned from water to overland. The result is that Cobano has developed into a town bustling with energy as tourists enjoy a day at the beach and shop owners ply their trade. Cobano has an eclectic mix of restaurants, shops, markets, a hotel and a small selection of cabin-type accommodations.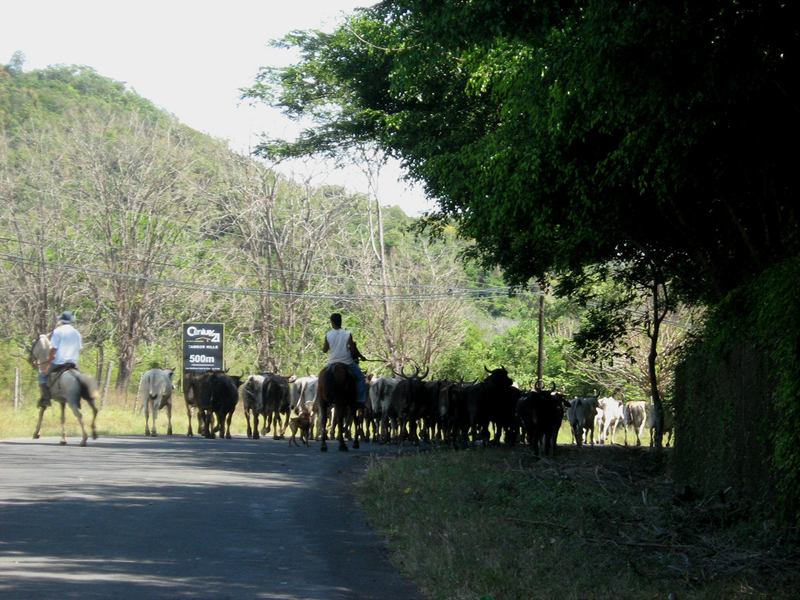 The Fiestas Civicas is one of the major cultural attractions of Cobano. Held in February each year, the rodeo starts with a parade of horse riders or tope from the surrounding villages and cattle ranches. The parade route is from Cobano to the Plaza de Rodeo. The fiesta lasts for three days. Patrons can watch bull riding, stroll a promenade filled with colorful booths and sample the fare from numerous food stalls that feature "boca", the local snack. You can also enjoy the party atmosphere of the nightly cumbia dancing. Visitors to the area will also enjoy spending a day at EcoRide Adventure Park. Approximately four kilometers from Cobano, kids and the young at heart can ride E-motorcycles, BMX bikes or mountain boards along a two kilometer track that takes them through the rain forest. The park is open every day.
The best way for visitors reach Cobano is by flying from the capital of San Jose to Tambor. From here, you can rent a car or take a bus and be amazed by the picturesque scenery as you travel to Cobano. Another option is to take a ferry from Puntarenas City to Paquera and then to drive Cobano from there. If you are traveling to the gorgeous beaches of Mal Pais, Playa Tambor or Montezuma, you'll travel through Cobano and the town also makes the perfect stop over point for those heading on to tour the magnificent Cabo Blanco National Park.