It has been said the heart of Costa Rica is in the Central Highlands, surrounded by steep mountains to the south, coffee plantation covered hills and several of the countries most spectacular volcanoes. To the north lays the city of San Jose, the capital of Costa Rica as well as the populous center of the country.
The Central Highlands are defined by the Cordilla Central mountain range running north to south, containing some of Costa Rica's most visited volcanoes, Poas and the highest Irazu volcano at 11260 feet. To the east, the lower mountain range of Cerros de la Carpintera gives way to the Caribbean lowlands and the Caribbean Sea beyond. To the south the steep mountain ranges of Talmancas. In the center of these majestic mountain backdrops is the Meseta Central plateau, at the 3000 foot level the plateau is home to 70 % of Costa Rica's population. The 3 biggest cities being Alajuela, Heredia and San Jose, to the east the historic and once capital of Costa Rica, Cartago.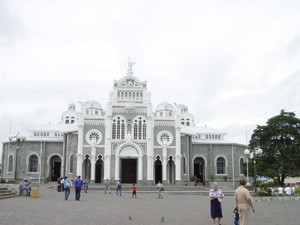 Popular with the tourist is the colonial style architecture found in the cities to the fantastic views surrounding the valley. A visit to San Jose will give the visitor a view of a large Latin American city. Large parks, markets, bustling business center as well as the Plaza de la Cultura, with the Teatro Nacional located in this pedestrian only shopping area. Smaller towns of Alajuela, Heredia and Cartago will give the tourist a glimpse of a smaller less hectic Costa Rican lifestyle. Open air markets and small shops tend to give the area a low keyed atmosphere. A favorite with the arriving tourist is the many tours of the area, from driving tours to the many National Parks, such as La Paz Waterfall Gardens and Poas and Irazu Volcano National Parks to the working coffee plantation at Cafe Britt, or a day exploring the old section of historic Cartago and San Jose. With a temperate climate, the mountain slopes leading to some of the most viewed volcanoes are covered by coffee plantations, and rain forests. Often cloud shrouded mountain peaks give the visitor surreal views. From several mountain peaks and Irazu Volcano it is possible on a clear day to see the Pacific Ocean and the Caribbean Sea.
The Central Highland climate has a eternal spring like weather, with a rainy season from mid April to December one will find a average temperature in the lower to upper 50's during the night to a high in the upper 60's during the day. Below freezing temperature are not unheard of in the higher altitudes such as Irazu Volcano.
The Central Highland is also home to the largest and most frequented International airport of Costa Rica, Aeropuerto Juan Santamarie, located just outside of Alajuela and a 20 minute ride from downtown San Jose.