Tasmania
is an island that sits off the southwest coast of the
Australian
mainland. Tasmania is also the name of the state that encompasses Tasmania along with 333 other islands. The population of the State of Tasmania is approximately 507,000 people, with half of those people living in the greater area of the city of Hobart. Hobart is the capital city of the island of Tasmania.
Tasmania is referred to as the "natural state" the "island of inspiration" and a "world apart" rather than a "world away." Tasmania deserves those accolades as it boasts the cleanest air in the world and the rainwater is so pure that it is captured and bottled. The produce grown in Tasmania is coveted around the world with apples, walnuts, and wasabi of the highest quality. Award winning cool climate wines are produced in Tasmania and the region is famous for quality cheese, salmon, oysters, and crayfish as well.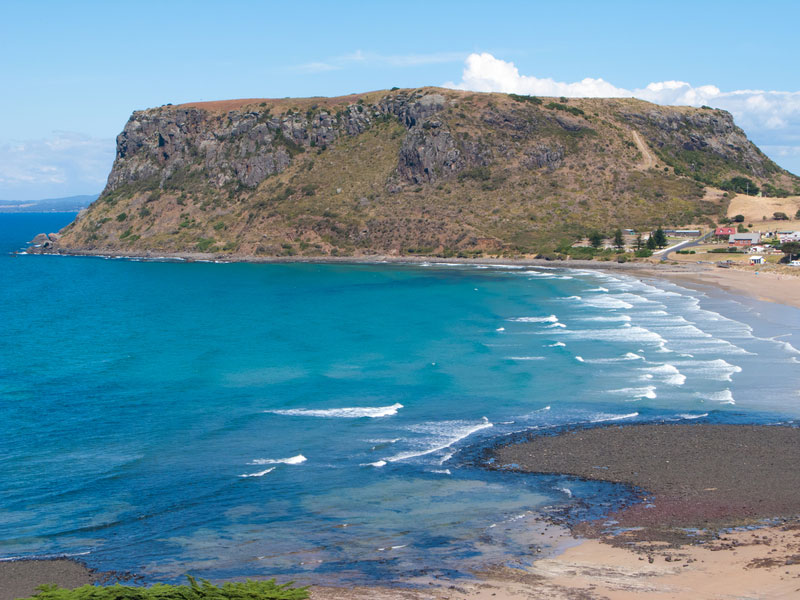 Located in the foothills of Mt. Willington, Hobart is well worth a visit. This city has a charming colonial feel and history, but is also modern and lively. There are many good eateries and pubs, over 40 hotels, as well as B & B's, cottages and vacation homes. One should be sure to visit the Cadbury Chocolate Factory while in Hobart.
One of the most popular activities in Tasmania is bushwalking, or, what folks in the USA more commonly call hiking. Tasmania offers some of the world's finest bushwalking experiences, but it is essential to be fully prepared before one sets out. An online visit to the Parks and Wildlife Service, Tasmania should be the first stop for anyone interested in bushwalking in Tasmania. There are trails available all over Tasmania covering everything from easy day walks to difficult treks that last several days.
Near Hobart there is a 3 hour walk called the Organ Pipes. This is a level 3 walk suitable for most, some bush- walking experience suggested, the trail may have some short, steep, sections with rough surfaces. The trek leads walkers from the Springs and leads them to the fluted columns that resemble organ pipes.
The Overland Trek is one of the multi-day bushwalks available in Tasmania. The trek, in central Tasmania, is in the Tasmanian Wilderness World Heritage Area. Walkers will experience white sand beaches, Australia's highest sea cliffs, alpine plateaus and ancient rain forests. This walk is popular world wide and in order to preserve the eco system some controls exist on the numbers of walkers who may be on the trail. One must register for the dates they wish to take this bush walk.
These are only 2 of the dozens and dozens of walks on may enjoy in Tasmania and highlights just one of the many amazing things that await visitors to Tasmania. Go visit and discover what amazing experience awaits in Tasmania .