Perth
, the capital of Western Australia, is a cosmopolitan mix of wonderful beaches, inner city parks, modern commerce and aboriginal culture. Archeological evidence shows that the area around Perth has been settled for over 40,000 years, most notably by the Whadjuk Noongar people. This makes the area one of the oldest inhabited places on Earth. Boasting a classic
Mediterranean
climate and over 3,000 hours of sunshine each year, this city on the Swan River is a remarkable gateway to the region.
Perth's economy is based primarily on the service industry, but as the state capital, its central business district supports the region's mining, petroleum and agricultural industries. Situated between the warm waters of the Indian Ocean and the coastal escarpment known as the Darling Range, Perth has a population of 1.7 million people making it Australia's fourth most populous city. Although this growth has put a strain on the area's water resources, Perth consistently ranks within the top tier of the world's most livable cities.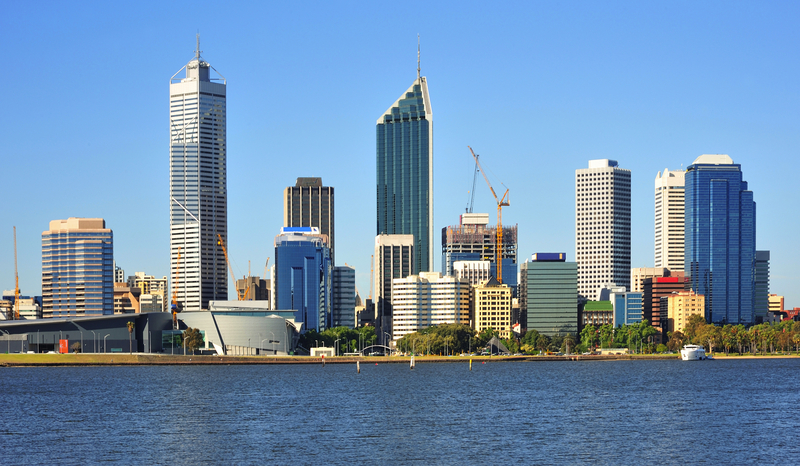 Resident and visitors can enjoy the shopping galleries and boutiques of King Street or dine in the open air cafes that line more than 80 kilometers of white sandy beaches. You can enjoy the sun as you stroll through Kings Park Botanical Gardens or experience the unique city views offered by the treetop walk. Tourists will enjoy visiting the Perth Mint, the Swan Bells Tower and the Art Gallery of Western Australia. For an active fun filled day, venture over to the world famous Cottesloe Beach for surfing, swimming and snorkeling. There are numerous manmade and natural wonders, parkland and marine life to explore. In the evening, take the ferry to South Perth for a panoramic view of the city's nighttime skyline.
Perth is home to four major universities and the Western Australia Museum. After a short drive to Fremantle, you can see the yacht Australia II that won the America's Cup in 1983. The many sports venues are a testament to the city's love of the outdoors. The Perth Concert Hall hosts theater, ballet and orchestral performances.
Perth is a superb mix of natural beauty, dining, culture and outdoor living.