Adelaide, the capital of South Australia, is situated near the River Torrens on the Fleurieu Peninsula between the Gulf of St. Vincent and the Mount Lofty Range. Established in 1836 by Colonel William Light, the city was designed to have an air of elegance with its large public squares and wide boulevards surrounded by lush, green parklands. Adelaide is Australia's fifth largest city with a population exceeding 1.2 million and is the government and financial center for the region. There are also large health care services, defense and manufacturing industries. The city is home to several universities and research facilities including Flinders University and the Royal Institution of Australia.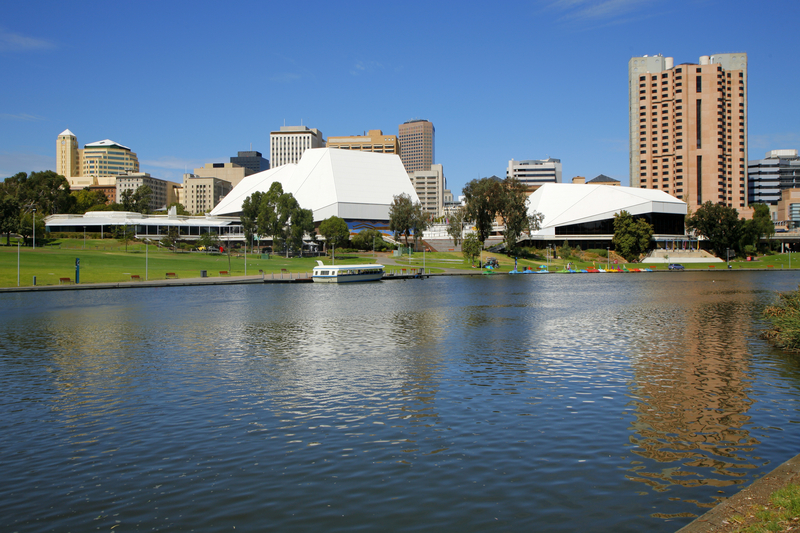 Adelaide's
Mediterranean
climate makes it easy to enjoy the city's many cultural and outdoor activities. Visitors can tour the Art Gallery of South Australia and see a notable display of indigenous, colonial and modern art. At the Tandanya National Aboriginal Cultural Institute, patrons will discover the art, music and culture of the indigenous Kaurna people who call the area "place of the Red Kangaroo."
You can stroll through the Adelaide Botanic Garden and marvel as Kaurna guides discuss the numerous native plant species they have used for medicine, food and shelter for several generations. At the Museum of Migration, guests learn how various, diverse groups of people have come together to shape the culture of the region. Visitors will enjoy the myriad of the many festivals held in "The Festival State." You can sample the local cuisine and the world renowned wines of the Barossa Valley during the Tasting Australia festival or celebrate the area's art scene during the Adelaide Festival of the Arts.
Adventurers who want to experience outdoor activities will surely find what they're looking for in one of Adelaide's 29 city parks or along its vast expanse of beaches. You can enjoy a picnic, concert and fireworks displays in Elder Park near the city center. For water enthusiasts, a trip to Sellicks, Henley or Maslin Beach is in order. Visitors can boat, surf and swim or just enjoy the view of the sparkling waters, white sand and picturesque cliffs. After a day at the beach, guests can dine al fresco in one of many seaside cafes. The city has an eclectic mix of fashion boutiques, shopping malls and everything in between.
Adelaide has a gracious, care-free lifestyle that continually ranks high on lists of Australia's most livable cities.