The Amazon region of South America is a magnet for travelers interested in adventure, eco-tourism, science, and sustainable practices. A few years ago, the Tourism Board and Chamber of Commerce of the Peruvian Amazon region set out to rediscover the potential of its pristine waterfalls. Part of this effort included taking a formal measurement of the Catarata De Yumbilla, Peru, a magnificent waterfall in the Cuispes District of the Bongara province.
At the behest of the Mayor of Cuispes, geodesy experts from Peru's National Institute of Geography determined that the height of the Yumbilla waterfall measures an impressive 896 meters, approximately 2,940 feet. This would make Yumbilla the third highest waterfall in the world, just behind the Angel Falls in Venezuela and the Tugela Falls in South Africa. The measurement has been subject to some challenges, but the event managed to renew interest in the great tourism potential of the area.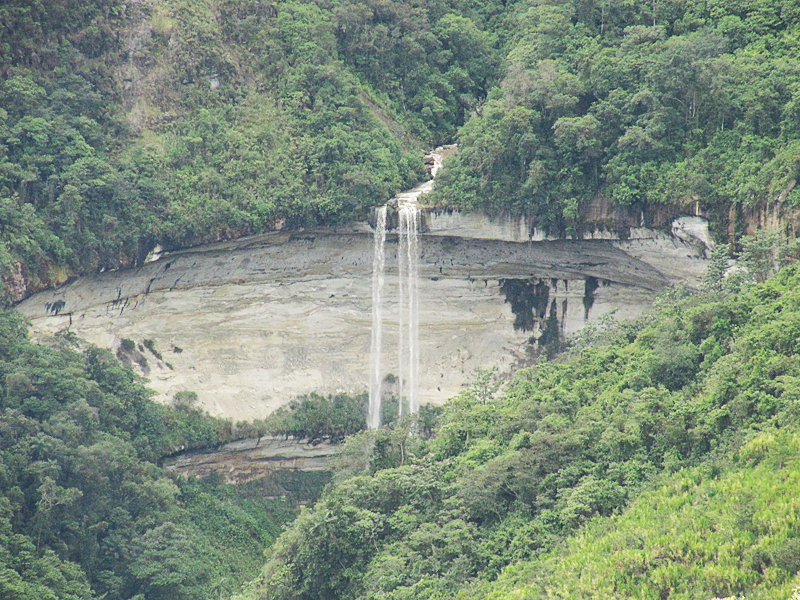 Yumbilla is the largest waterfall in the Peruvian Amazon, a region that has been blessed with 24 pristine Waterfalls of South America. Yumbilla has four different vertical streams from brink to base. The terrain surrounding the falls is mountainous but hospitable, with green forests and thick canopies of varying heights. The brink of Yumbilla is known as the Cueva San Francisco de Yumbilla, a cave that measures five meters in height and nine meters across. The depth of this intriguing cave has not been fully determined, but villagers from Cuispe have been known to descemd 250 meters.
Since the Yumbilla falls were remeasured in 2007, a greater influx of adventure travelers and eco-tourists are exploring the region. A trail running down from the San Francisco cave to the base of Yumbilla measures about 5.7 km, and it leads to a viewing area known as "Sal Si Puedes" (Leave If You Can). This interesting name refers to the captivating natural beauty that hikers experience when they visit. Walking down to the base means being treated to the deafening roar and constant spray and mist as water hits the rocky bottom.
Visitors will be impressed with the hospitality in Cuispes, where the locals offer expert guides, horseback riding, and great food. The area is teeming with wildlife and unique orchids, and there are two other waterfalls that can be explored in a two-day span. Cuispes is a sleepy agricultural town that has only recently began to experience eco-tourism, but it is trying to extend its range of services to visitors in terms of lodging and guided tours.