Waterfall enthusiasts consider Kaieteur Falls of Guyana, South America, one of the top scenic Waterfalls of South America. The fall features a high volume of water falling more than 250 meters or 800 feet. The great quantity of water, coupled with the distance the water falls, may make the Kaieteur Falls one of the most physically powerful natural phenomenon in the world.
The fall occurs on the Potaro River as it drains a range of mountains in northern Guyana. The Kaieteur is the largest of about nine waterfalls along the course of the river. The river is also noted for its indigenous people as well as the gold and diamonds mined from the riverbed and surrounding area.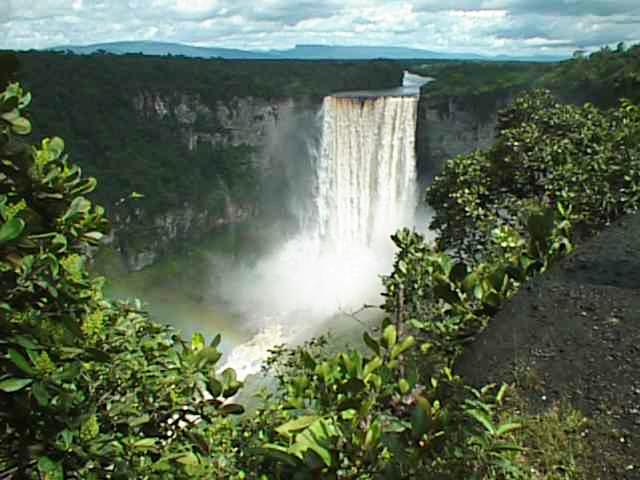 The waterfall was unknown to European mapmakers until the 1870s when geologists exploring the area for mineral wealth came across the falls. Over a number of years, the location was mapped and the height and volume of the falls were estimated. Traditionally, the falls name is associated with a native legend describing a chief known as Kai who sacrificed his life by going over the falls in an effort to save his people from the wrath of the spirits.
The waterfall is the centerpiece of Kaieteur National Park and a major attraction in the area. Officials established the park in 1929 which is administered by a commission. The park's stated purpose also includes preserving the wildlife and jungle plant life native to the region.
International travelers planning to visit Kaieteur Falls can arrange a flight to nearby Kaieteur International Airport. This airport often serves as jump off point for expeditions to the waterfall and the park. The airport's elevation of about 1,500 feet or 450 meters along with a runway length of just 2,000 feet or 600 meters limits the airport to serving smaller aircraft which shuttle people to and from the larger airports of the region.
From the airport or the nearby roads, travelers can walk to the location of the falls. This is about a three mile or six kilometer trail. The power of the waterfall and its close proximity to travel connections makes Kaieteur Falls a popular destination for adventure travelers.