Chorrillo del Salto is one of the world's most beautiful and tranquil waterfalls. Located in the heart of Patagonia in the Los Glaciares National Park, Chorrillo del Salto offers a pleasant experience for those who wish to see nature in all of its splendor without having to contend with massive hoards of tourists.
This Waterfall of South America is just under 66 feet (20 meters) tall. The east facing falls glisten in the morning sun, but are just as beautiful in the evening shade. Those wishing to admire Chorrillo del Salto will need to be prepared to hike a short distance up a dirt path. The trail is about 1/3 mile (500 meters) long. Those who seek more adventure can attack the a path that travels alongside the falls.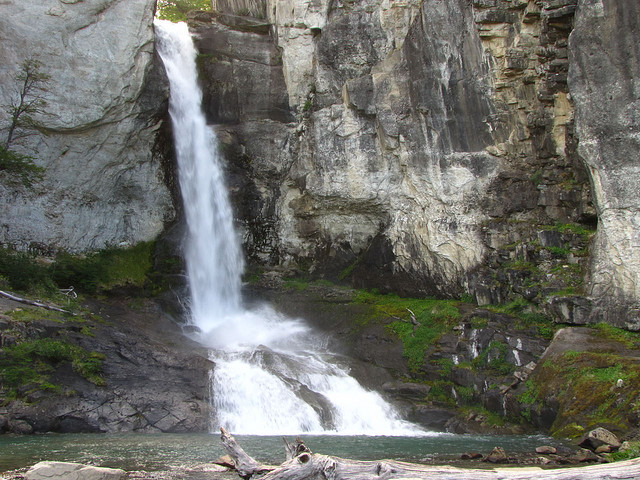 Most visitors to this area begin their journey in El Calafate. Many fly into the Comandante Armando Tola International Airport. They then explore this area before traveling north to El Chalten. El Calafate is popular because it gives tourists access to the Perito Moreno Glacier. Perito Moreno is one of the most visited glaciers both for those who wish to trek it and for those who simply want a view of its natural beauty.
The closest town to Cascada Chorrillo del Salto is El Chalten. The village is about one mile (3 km) from the waterfall. El Chalten is known to host those seeking adventure. Mountain climbers and hikers enjoy the challenges of the nearby Cerro Torre and Monte Fitz Roy peaks. El Chalten has a few spots with accommodations for tourists as well as restaurants and shops for outdoor equipment. There are also free campsites near the town.
The drive between El Calafate and El Chalten offers a unique view of the bodies of water of Patagonia. A paved road takes travelers around Argentino Lake and Viedma Lake. Argentino Lake is the largest freshwater lake in Argentina. Many visitors stop for boating or fishing. Northwest of El Chalten is a third waterway that is popular with adventure tourists. San Martin Lake is notable for being the deepest lake in the Americas. It is also notable for being claimed by both Argentina and Chile, which calls the lake O'Higgins. Visitors can take a ferry to reach O'Higgins on the Chilean side.