Dividing the Iguazu River into the upper and lower Iguazu, Iguazu Falls is a gorgeous and highly impressive group of over 200 waterfalls. Much taller and wider than Niagara Falls, Iguazu Falls is often compared to Africa's tremendous Victoria Falls. Fantastic vistas and beautiful flora and fauna await visitors to the area, and adventures abound.
Iguazu Falls is located partially in Brazil and partially in Argentina and the Falls are shared by the Iguazu National Park in Argentina and the Iguacu National Park in Brazil. The area is highly protected as a natural jungle ecosystem and remains a pristine area full of beautiful plants, trees, and rainforest animals. Iguazu Falls enjoys a subtropical climate with warm temperatures year-round. Perhaps the best time to visit is in the fall and spring when temperatures and humidity are ideal.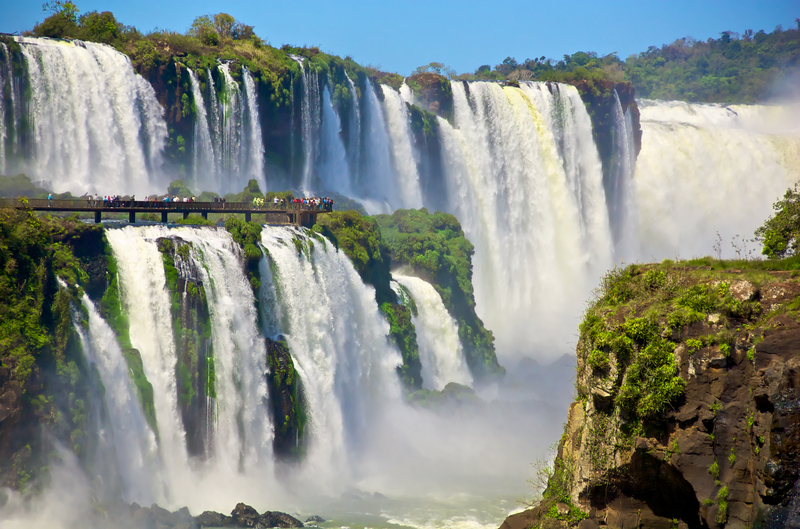 "Iguazu" derives from Guarani words for "water" and "big". Iguazu Falls is located where the Iguazu River falls over the edge of the Parana Plateau. The Falls are made up of hundreds of falls, but perhaps the best known is Devil's Throat, which is U-shaped, 82 meters high, and 150 meters wide. The border of Argentina and Brazil actually runs right through Devil's Throat. Two other notable falls amongst the many at Iguazu Falls are the San Martin Falls and Bossetti Falls.
Access to Iguazu Falls is quite simple, making the falls one of the most popular Waterfalls of South America. There are two main towns on either side of the falls: Puerto Iguazu in Argentina and Foz do Iguacu in Brazil. Both countries protect the ecological area rigidly, but they also provide ample ways to enjoy the beauty of the falls. From the Brazilian side, there is a walkway along the canyon that leads down to the bottom of Devil's Throat. There are also other hiking trails, helicopter rides offering aerial views, and a new transportation system consisting of double-decker buses that provide spectacular viewing opportunities. On the Argentine side, visitors can access the falls by way of a ride through the forest on the Rainforest Ecological Train, which brings visitors to the entrance of Devil's Throat and other trails. There are also boats available that actually go under the falls.