Washington, D.C. is one of the word's best sightseeing destinations. Few cities deliver as many attractions per square foot. Most of the highlights are within walking distance of each other and almost everything on the must-see list is free.
The White House and the Capitol
The White House remains Washington's most popular destination, with a tour that includes the Red Room, State Dining Room and East Room, complete with furnishings, art work and portraiture. Requests for a tour must be made 6 months to 21 days in advance. Reservations aren't needed at the Capitol Visitors. However, booking a tour in advance allows visitors to see much more of the Capitol building, including the interior of the majestic with its rotunda architecture.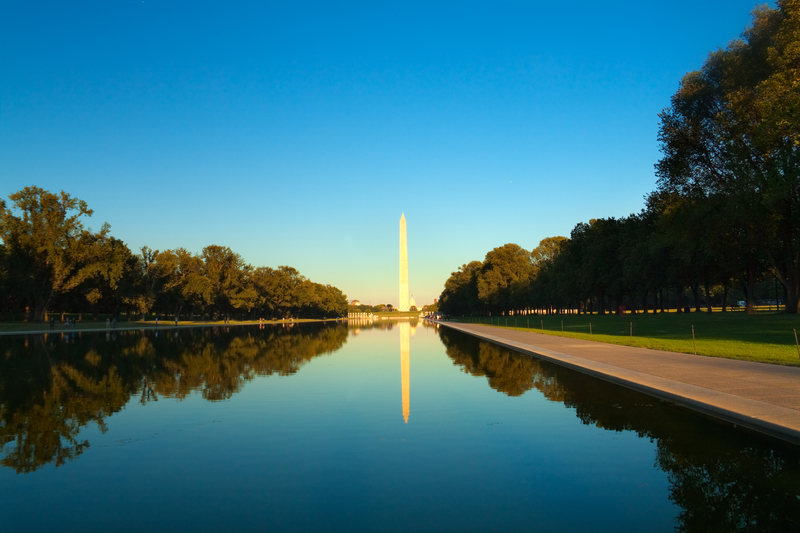 The Mall
Stretching between the Capitol and the Lincoln Memorial is the National Mall. Visited by more than 24 million people a year, this 1.9 mile stretch of parkland is packed with some of America's most famous icons.
The Washington Monument, between 15th and 17th Streets, occupies the center of the Mall, and a trip to the observation deck on top offers a panoramic view in all directions. Immediately to the west of the Monument is the Mall's newest feature, the moving World War II Memorial. Facing the WWII Memorial across the 2,039 foot long Reflecting Pool is the massive Lincoln Memorial, on whose steps Martin Luther King gave his famous "I have a Dream" speech in 1963.
In the southwestern corner of the Mall is the cherry tree lined Tidal Basin, ringed by the Jefferson Memorial, the Roosevelt Memorial and the Korean War Memorial.
The World's Most Popular Museums
The eastern half of the Mall contains several of America's favorite museums. The National Air & Space Museum houses everything from Apollo 11 to the Spirit of St. Louis to the Wright brother's plane and is the world's most visited museum. Also on the Mall is the Smithsonian, with it's extensive collection of all-things American, as well as the Museum of Natural History, the National Museum of Art, the Museum of the American Indian and the Museum of African American Art.
Beyond the Mall
Near the Mall are several other top-tier attractions, including Arlington Cemetery, the National Portrait Gallery, and the Library of Congress. Mass transit is an excellent way to get to the National Cathedral, and families with children will enjoy the National Zoo in Rock Creek Park.